This Page Is Under Construction
Hans Bonhart Munchow
One of the most intriguing men to call Vernon home was a con man from Germany, Hans Bonhart Munchow, who passed himself off as an Austrian/Hungarian nobleman. The account that follows is pieced together from documents and newspaper articles.
In spite of his duplicity and swagger he left Vernon with an iconic landmark that we preserve and cherish today.
Hans Munchow was born in 1882 in Germany. His first recorded trip to America was at the age of 25 when he sailed from Hamburg to New York City in October 1907. During his next two years he took his measure of early 20th Century America and the opportunities available to an ambitious young foreigner. The automobile was emerging as the successor to the horse and buggy and was fascinating Americans, wealthy Americans in particular.
Two years after arriving he made another voyage to Germany returning from Bremen as the representative of the Geschwa shock absorber company. On the voyage he apparently met and won the heart of Southern belle Henrietta Cassin, from a wealthy family in Louisville, Kentucky who was 25 years his senior. At that time wealthy Americans enjoyed visiting Europe and slow travel by ocean liner made plenty of time to meet and impress fellow passengers. Hans was charming, charismatic and without scrupples.
Hans was unmarried when he arrived in Hartford that year as the representative of a German manufacturer. Germany already had a reputation for its excellant engineering and manufacturing capabilities and Hans had no trouble endearing himself to Hartford society and the fledgling automobile business community.
At the time there were many small companies attempting to make it as auto designers and manufactureres and with an extablished manufacturing base Hartford was in competition with Detroit to be the home of the American auto. The best known Hartford manufacturer was probably Pope but there were others in the Connecticut River Valley including ....
Hans chose to make his home in Vernon where he purchased Lyman's Valley Falls Farm, which at the time included the farmhouse and red barn on Valley Falls Farm as well as the fields and dammed pond. The property had changed hands a number of times since the failure of the Christian Sharps trout farm and the cotton mill had burned and been abandoned as well. Rockville was now the center of manufacture in the area and Valley Falls was a perfect site for a young man with the ambition of being a wealthy gentleman farmer.
At the time he moved to Vernon in 1910 he was unmarried but likely engaged and planning to use his wife's money to improve the farm and create the image of a wealthy European businessman. Vernon believed a millionaire had come to town and likely welcomed him with open arms. Indeed living at the farm with him was the Michaels' family also from Germany. Philip Michaels who ran the farm and his wife Katherine who was servant to Munchow. Another German Frederick Stohl was a hired hand on the farm. It's unclear if Hans grew up on a farm in Germany, but it seems likely.
In Hasel Lutz' description of Munchow, who she refers to as a 'Count,' she says that he "was a tall, well-groomed man with a neatly trimmed Van Dyke beard, who sat up straight in the narrow carriage with a seat just wide enough for two, himself and his Great Dane dog. This turn-out was drawn by a lovely dappled grey horse. At times he rode his saddle horses along the trails through the woods nearby. The Count was responsible for bringing other Hungarian families to Vernon to work as masons, cooks and caretakers on his estate."
Munchow rented an office on the fourth floor of the prestigious Connecticut Mutual Building in Hartford at the corner of Pearl and Main. He intended to make an impression in Hartford that he probably couldn't have carried off in New York. Known in the city as 'The Baron' he likely charmed the wives of Hartford's business community at social events as well as the businessmen themselves exaggerating his importance and capabilities with his employer.
To enhance his image he bought and drove to work daily a large green Stevens-Duryea Roadster. He hired a stenographer from Rockville, Rose Martin, who he drove to work and with a gallant air assisted her from the car to the elevator. The Stevens-Duryea auto was developed in ??? and manufactured in Springfield, MA. Munchow likely had a relationship with them as a parts supplier. The company only lasted until 1915.
The 1913 Hartford Auto Show
Although a digression from Munchow's story this description of the 1913 Hartford Auto Show tells a lot about the times and the society he thrived in. It's an era and type of event before movies and the war and depression that would follow that we don't appreciate.
To promote automobiles in Hartford the Hartford Automobile Dealers' Association produced an elaborate show each year in February to introduce new models. During Munchow's time here the event was held at the State Armory on Broad Street and each year was themed with symphony orchestra concerts twice each day. Hans had a booth at the Sixth Annual Auto Show in 1913.
It was a lavish week-long event. The Armory was transformed into scenes fron India. The walls were spread with enormous canvasses on which were painted scenes of India. A painting of the Taj Mahal, which took five men nearly three months to paint, covered one entire wall. At the entrance a great molded tiger confronted visitors. It is claimed to be the largest painted curtain in the world.
A fifty musician orchestra performed concerts each afternoon and evening in the center of the floor where a great sounding board was constucted to carry the sound throughout the building. Selections ranged from ragtime to classical.
Automobile improvements for 1913 include self starters and six-cylinder engines, pneumatic tires, imported upholstery and adjusted shock absorbers. Munchow's product produced a comfortable ride. Forty five automobile manufacturers were represented. Prices ranged from $400 to $7,000. There was an expected attendance of 100,000 people.
Exit Munchow; Creditors Mourn
This was the headline of an April 24, 1913 article in The Hartford Courant.
The 1913 Hartford Auto Show was Munchow's last hurrah in Hartford. He had run up large debts from his expensive life style and developing his farm. The previous October he returned to Germany, likely to meet with his employer. The First World War was looming and perhaps Munchow had been dishonest about his sales results.
There was one other major factor influencing Munchow's exit from Hartford. He was having an affair with his stenographer from Rockville and perhaps his wife was suspicious by this time. She was 54 years old and her husband had spent the money she brought to the marriage. They sold off parts of the Valley Falls estate the previous fall to settle some of their debts.
Munchow gave up his quarters in the Connecticut Mutual Building in March. He then rented the house at 801 Albany Avenue for one month where he went to live with Henrietta. Then he vanished. As the Courant put it it was 'as though the earth had opened and swallowed him up.' At the same time Rose Martin packed her things and left Rockville saying she was going to Pittsburgh, PA to work. The rumor in Vernon was that the Baron went to Hollywood to produce movies.
Hans did go west to hide as he and his wife Rose gave birth to daughters Eva in September 1914 and Marie in 1917 in Texas. We wonder if his creditors pursued him and if he was arrested at any point.
In 1919 he was back in New York City where he applied for citizenship which was granted in 1920. In the application he states that he is married to Henrietta Munchow of Louisville, Kentucky and that he has two children living with him - Eva and Marie - and that he is employed as a chaeffeur. Did he actually marry Rose?
In the 1920 US Census he is living with his family in New York City and working as a salesman. In the 1925 NY Census he has moved to Long Island City, Queens and is in a single family house.
What happened next we don't know. An Eva and Marie Munchow show up in Australia but Munchow or von Munchow are not unusual names in Germany. More research to be done.
Henrietta was left to sell Valley Falls Farm and pay off what debts she could. She stayed with an Allen Page in Hartford on New Britain Avenue and then returned to Louisville, Kentucky where she lived with family until her death in 1940.
Rose Martin was born in 1889, the daughter of Rockville's G. Carl Martin. She was 21 in 1910 when Munchow arrived in Vernon and probably very impressed that a young man of his wealth and nobility was interested in her. Rose's father worked at the New England Company mill on Thompson Street and lived at 26 Mountain Street in Rockville. Her grandfather, A. Leroy Martin, owned E.J. Martin's Sons, which manufactured silk fishing lines at 26 Mountain Street in Rockvlle. He also owned the house on Davis that Rose grew up in.
Living In Vernon
1912 shock absorber ad in the Hartford Courant.
The 1910 Census finds Munchow still unmarried and living in Vernon. He now claims to be 32 and born in 1878. As a gentleman farmer did it look better to be a little older?
Hans Munchow owned Valley Falls Farm from 1910-13. He built the Stable and several of the buildings on the hillside which give the farm its picturesque look. He also is credited with rebuilding the red barn. Although living in Vernon for only three years his impact on the farm was significant.
The Census lists his occupation as a traveling salesman selling mining stock. He owned the farm with a mortgage and had 91 animals.
Also living at the farm was the Michaels family - Philip (48), Katherine (32), William (7), Elsie (3) and John (5) - as well as Frederick Stahl (24). Philip was the foreman at the farm and Katherine, his wife, was a servant to Munchow. The adults were all born in Germany. The Michaels children were born in New York. Frederick Stahl was an unmarried hired man. Munchow may have brought them to America but likely brought them to Vernon. At the time Rockville had a substantial German population to support the mills.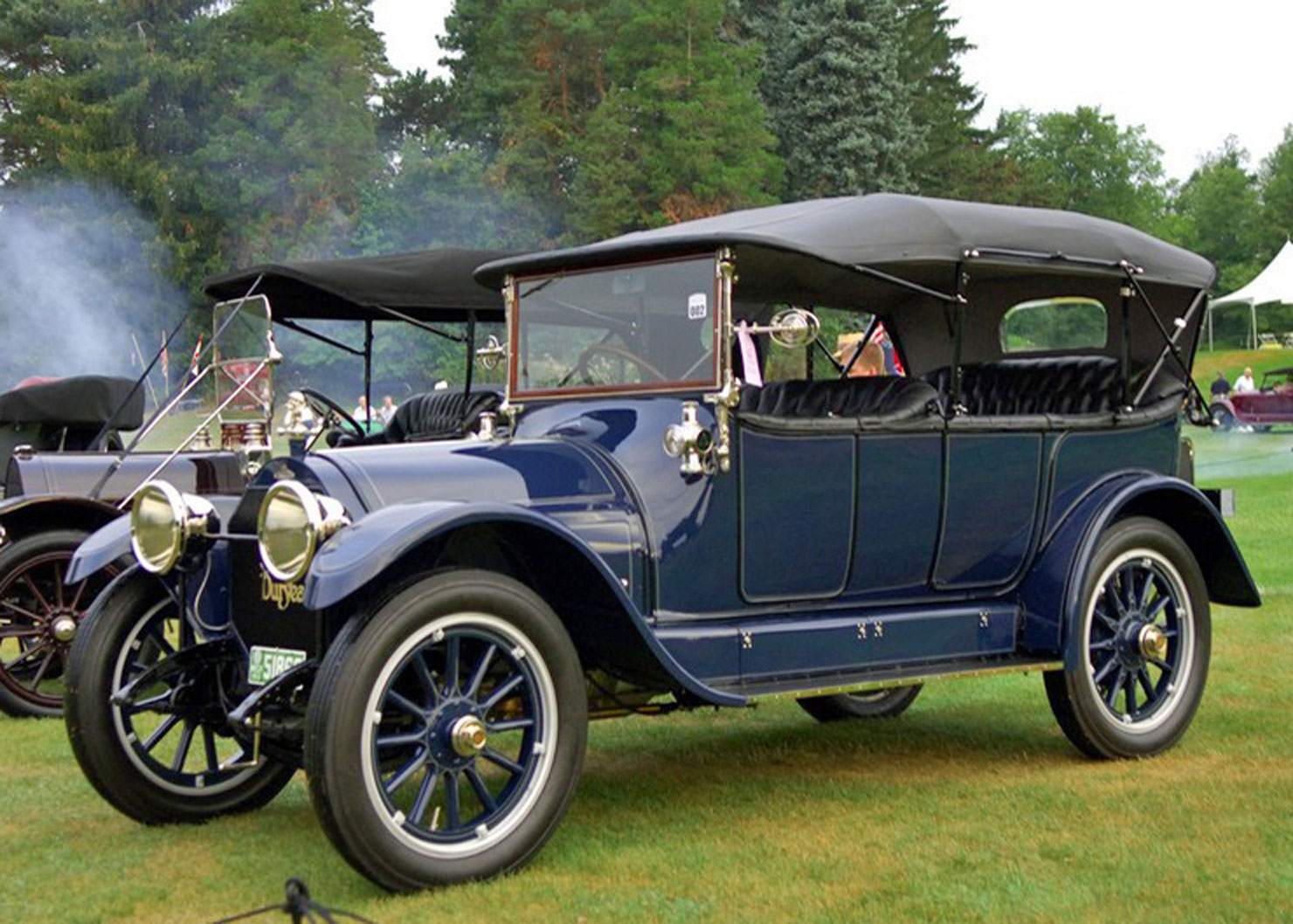 1913 Stevens-Duryea Rodester
similar to Munchow's auto.
During his period in Vernon Munchow met and married Henrietta Cassin, who is listed as his wife in 1912.
It was in January 1911, during his occupation of the farm, that the nearby Southeast District schoolhouse on Bolton Road burned. It had been unused for several years at the time.
Hasel Lutz in her article on Valley Falls for the Rockville Journal has this to say about Munchow:
"One of the early Colonial homes along Valley Falls Road is located opposite the pond. In the late 1890's it was owned by Count Muncho, a Hungarian nobleman who lived the life of a gentleman farmer there. It was he who built the large, elaborate stable at the crest of the hill to house his fine horses. The interior walls are made of matched boards and its stable accessories are custom made."
"The Count, some recall, was a tall, well-groomed man with a neatly trimmed Van Dyke beard, who sat up straight in the narrow carriage with a seat just wide enough for two, himself and his Great Dane dog. This turn-out was drawn by a lovely dappled grey horse. At times he rode his saddle horses along the trails through the woods nearby. The Count was responsible for bringing other Hungarian families to Vernon to work as masons, cooks and caretakers on his estate. Legend has it that he suddenly auctioned off all of his farm tools, sold his property and went to Hollywood where he became a successful movie producer."
After Vernon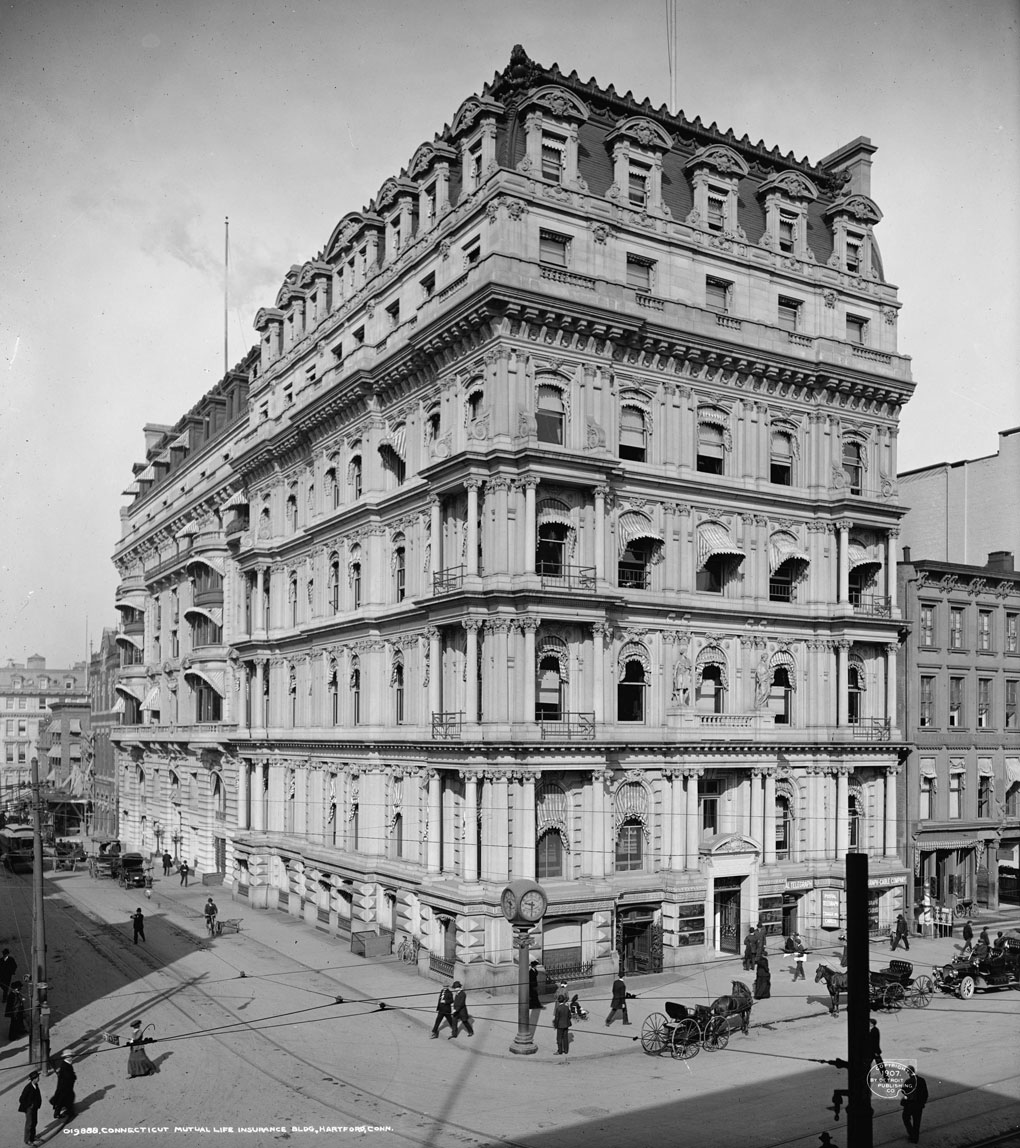 CT Mutual Building at Pearl & Main in Hartford.
Munchow's office was on the fourth floor.
The rumor was that Munchow was heavily in debt when he left Vernon and that he was headed for Hollywood. One wonders how he was received in Rockville society and if he convinced some of the mill owners to invest in his schemes.
That he was a Hungarian Count is unlikely and whether he reached Hollywood is uncertain.
What we do know is that he was naturalized in New York in April 1921 and was at the time still married to Henrietta. The record also shows that they had two children Eva (born 1914) and Marie (born 1917). His date of birth was listed here as November 5, 1883, which would have made him 37 years old at the time. He states that he lived continuously in New York since September 1917.
The description provided says he was 195 pounds with brown hair and eyes, that his address was 246 East 72 Street in New York City and that his occupation was a chauffeur. He was born in Artern, Germany. Henrietta at the time resided in Lousville, Kentucky.
We have no photo of Munchow although with his ego they certainly existed. We also have not found when and where he died.
A fascinating character he left Vernon with a much loved site that would attract the Beach family two years later in 1915.
Sources
'History of Valley Falls Park' by Carol & Ronald Burke.
Lutz, Hazel P. (1976). Vernon Vignettes, Volume II. Vernon Historical Society. 76 pages. Short stories of Vernon's past including Valley Falls.