Henrietta Cassin Munchow
Henrietta Cassin Munchow (1859-1940) in Vernon history is often interpreted as a naive Southern spinster taken advantage of by an ambitious, smooth-talking German, passing himself off as an European Count, who married her for her money. When financial trouble arrives she was abandoned in Vernon to clean up the financial mess he left. We assumed she returned to Louisville, where she spent her lonely remaining years living with relatives.
Her story is actually much more complex.
Growing Up In Selma
Although Henrietta was born in Louisville, Kentucky she was raised in Selma, Alabama and throughout her life traveled back and forth between the two Southern cities.
Henrietta's father was Henry Kassens (1840-1899), a German immigrant from Hannover, Germany who on January 5, 1858 married Josephine Enderlin (1845-1883) in Louisville. Later that year on November 15 Henrietta Kassens was born in Louisville. (Note: If these dates are correct Josephine was married at the age of 13. In the 1880 census Henrietta's age is given as 17 rather than her correct age of 21. Was the family hiding the early marriage?)
The Kassens spent the Civil War years in Kentucky. Henry was listed as an engineer in the 1860 census and may have been working at a distillery. It is not clear if he served in the war.
During the Civil War Selma, located on the Alabama River south of Birmingham, became a transportation center and one of the main manufacturing centers supporting the South's war effort. Its foundries produced much needed supplies and munitions, and its naval yard constructed Confederate warships. On April 2, 1865 one of the last battles of the Civil War destroyed nearly three-fourths of Selma. After the war it rebuilt and Henry saw opportunity.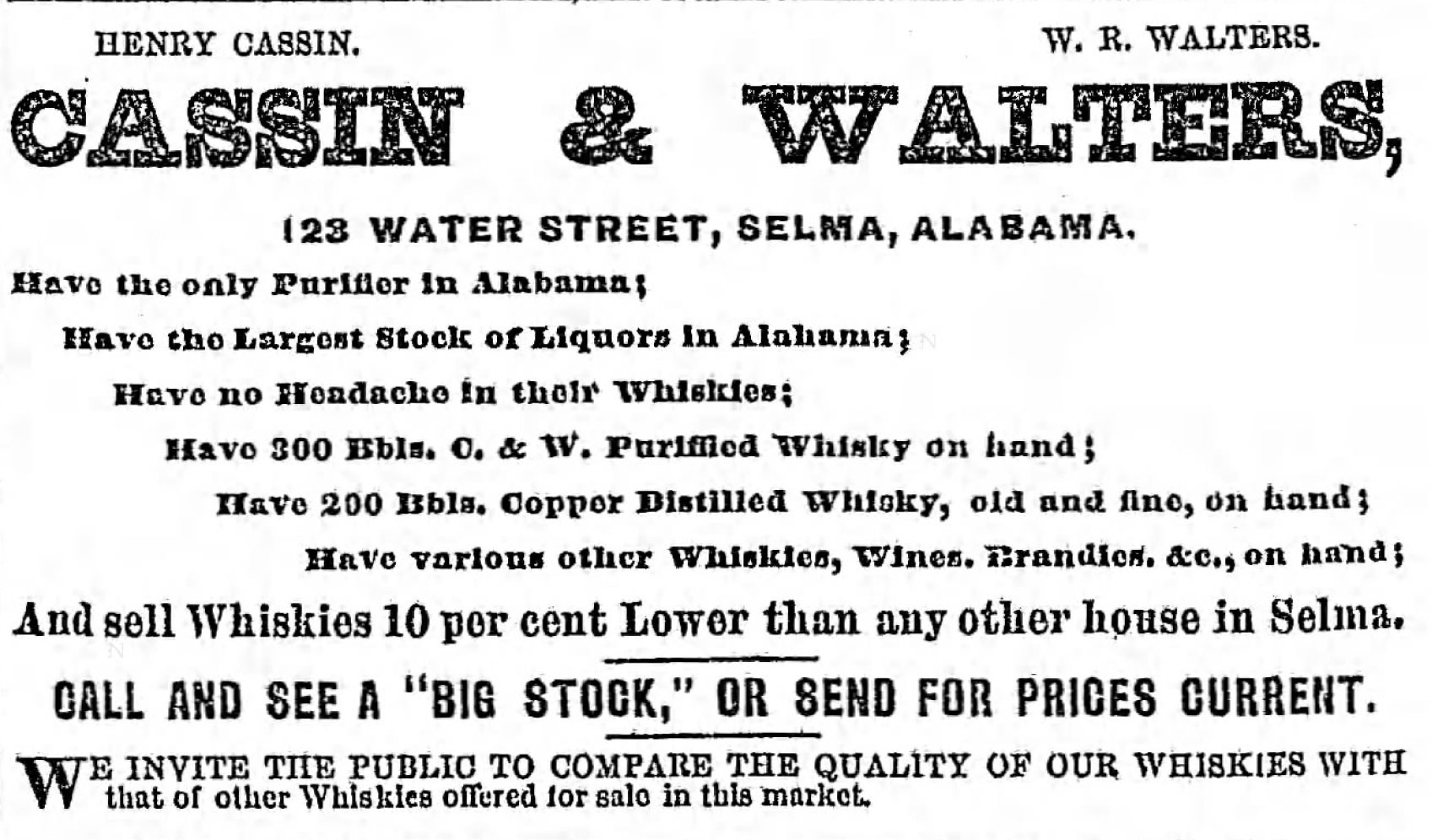 1877 ad for Henry Cassin's business.
Click on images to enlarge.
By 1868 he had moved with his family to Selma and become a partner as a wholesale dealer in alcohol products. He also changed the spelling of his name to Cassin. The Cassins were a prominent German Louisville family with members serving as officers of the court and a police detective. Henry may have felt this connection helped him in Selma.
Henry's business grew with the town and he became sole owner of the company in 1871 building a good reputation for carrying quality products and being an honest businessman. He was a consistent advertiser over the next 30 in Selma newspapers and proved to be a generous donor frequently gifting key people with his products. This included the editors of local newspapers, who praised him generously in return for favorable coverage. He was a popular and active member of the growing community.
This was the world in which Henrietta grew up, a daughter of a prosperous Southern merchant. Her only sibling was a sister Amelia, two years her junior. She completed high school, but as Henry had no sons he was devoted to his oldest daughter.
Henrietta's mother's Louisville family also played an important role in her life. Josephine Enderlin's sister, Mary Magdalene Enderlin, married George Frantz in 1866. In frequent trips back to Louisville the Cassin family stayed with Henrietta's Aunt Mary. In later life Henrietta lived with her cousin W. Harold Frantz.
Woman Of The House
The year 1883 brought major changes. Henrietta's sister Amelia married Theodor Becker in September in Louisville. In November their mother Josephine died in Selma after a lengthy and painful illness and she was buried in Louisville. Henrietta at 25 was now living alone with her father, who had some health issues.
With their family gone Henry and Henrietta moved to the St. James Hotel in Selma. Henry probably rented his house, no longer needed with his wife and other daughter gone. It was not unusual at the time for well off people to live in hotel suites. Henry could focus on his nearby business and travel without having to take care of a home. He could easily entertain at the hotel.
The Hotel Albert in Selma.
Henry Cassin seemed to enjoy travel and often Henrietta accompanied him or traveled to Europe on her own or with a friend. The year following Josephine's death Henry and Henrietta took an extended trip East, then Henrietta sailed to Europe for a longer vacation.
Henrietta was active in Selma society life, but also was a businesswoman herself. Opportunities for single women were probably limited in the late 19th Century, but Henrietta invested in real estate both in Selma and Louisville, holding mortgages on a number of properties. For example, in 1892 she announced in the local newspaper that she was holding a mortgage sale on property she had foreclosed on. Similar sales would take place over the years before and after her marriage.
In 1893 the St. James Hotel was sold, modernized and renamed the Hotel Albert. When it opened it was pronounced, "one of the handsomest pieces of hotel architecture in the South." It included eight stores, a barber shop, billiard room, bar, laundry and elevator plus, of course, the grand lobby - and that was just the first floor. The Cassins were their first guests and this would continue to be Henrietta's home when in Selma. Henrietta was used to living in style.
Henry's business continued to thrive in the 1890's. He was now the largest liquor dealer in Alabama, had moved to larger quarters, added a bar, and was a director of the local bank.
The Cassins are off for the Summer again in 1896. This time to Hot Springs and then to Europe. They spend more and more of their time in Louisville as Henry's health began to deteriorate.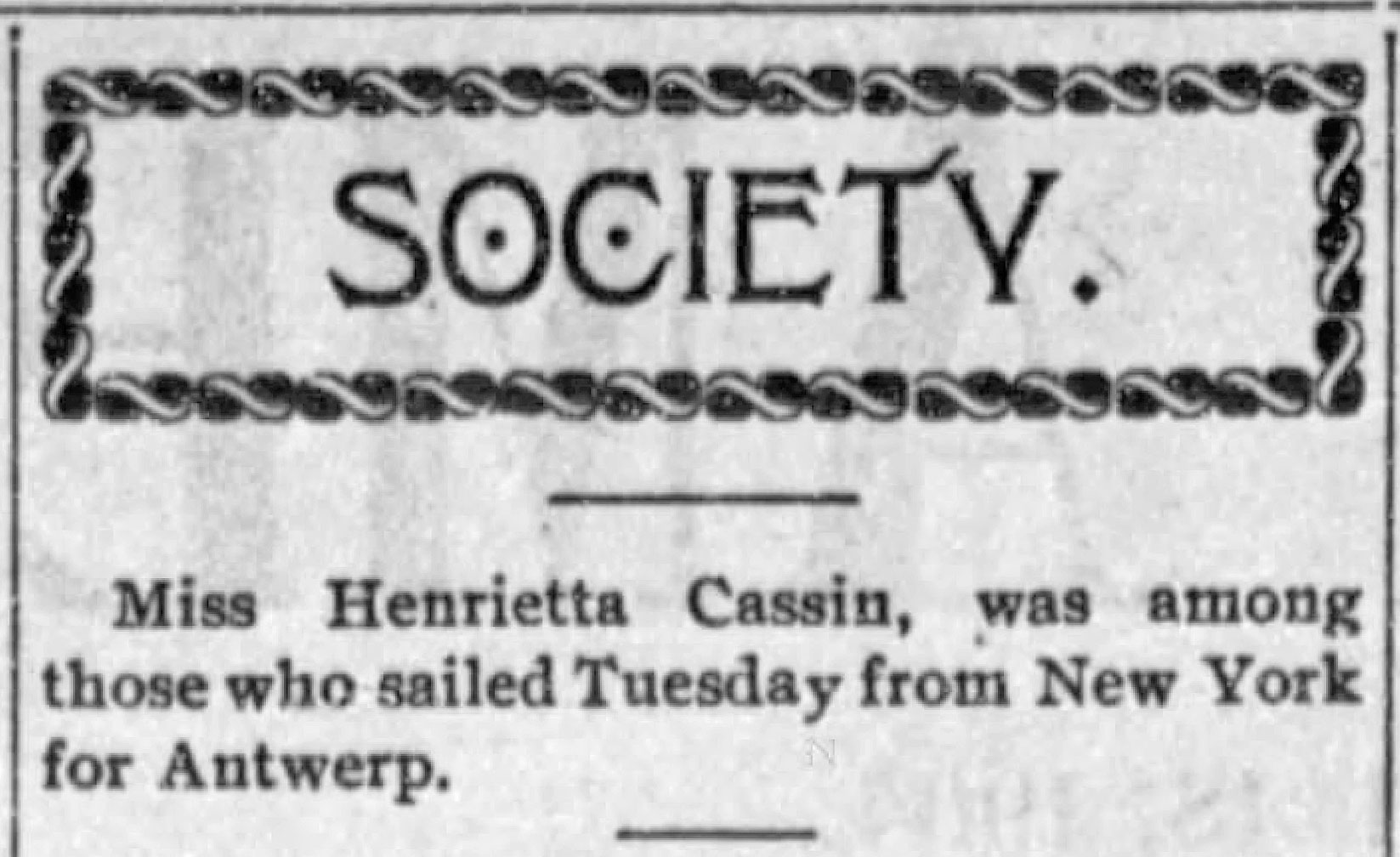 1904 Selma Society Page.
In 1899 Henry Cassin died in Louisville while visiting relatives. Henrietta was his executor with the challenging task of disposing of Henry's Selma business and properties, including his large stock of liquor.
After her father's death Henrietta made her primary home in Louisville, returning to Selma regularly to see old friends and attend to her own business interests. Her uncle George Frantz sells her additional property in Louisville in 1904. In June she leaves again for Europe.
Such was the life she has settled into as she turned 50 - Selma, Louisville, social clubs, business and travel. One wonders why she never married as there should have been opportunities. Perhaps she felt a responsibility to her father while he lived, or perhaps there had been a bad relationship.
Henrietta returned to Europe every two or three years and the trip she took for her fiftieth birthday in late 1909 would bring her to Connecticut and ownership of Valley Falls Farm.
Enter Count Munchow
Henrietta returned from Bremen, Germany on the SS Prince Friedrich Wilhelm arriving in New York City on January 16, 1910. This modern, luxurious ocean liner was launched in 1907 and provided accommodation for 46 first class passengers, 338 second class passengers and up to 1,726 third class passengers.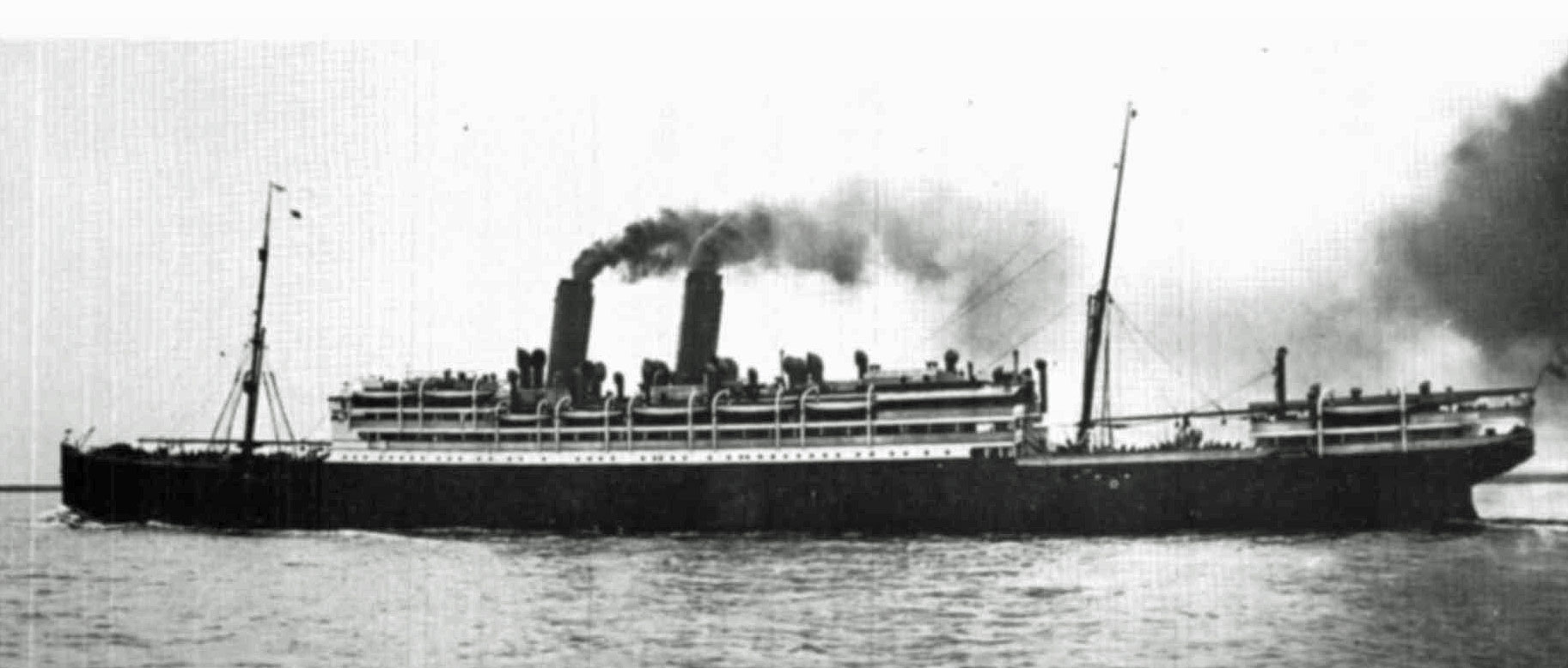 The SS Prince Friedrich Wilhelm.
On the voyage she met and was charmed by Count Hans Munchow, the American representative of an important German automotive manufacturer. At the time Hartford was the center of manufacture of the new automobile which was exciting the country.
Hazel Lutz describes Count Munchow as "a tall, well-groomed man with a neatly trimmed Van Dyke beard." His application for naturalization in 1919 described him as white, of light complexion, 6 feet tall, 195 pounds with brown hair and brown eyes. A newspaper article notes his genial manner and personal magnetism. He must have made quite an impression on Henrietta.
Henrietta was 50 years old, but on the ship's manifest listed herself as only 35. Hans was 28 so the age difference may not have seemed that much. Hans travelled second class on his frequent trips to Germany on business, Henrietta was probably travelling first class.
For Hans Henrietta was a fantasy come true; a way to quickly achieve the lifestyle he so desired. Besides her small fortune as heir to a prosperous merchant, her Southern heritage and social position would likely enhance his status in Hartford. We don't know what the courtship was like, but it was brief. There were certainly passionate letters and they must have spent some time together. Henrietta may have visited Hartford on an earlier Eastern trip with her father and would certainly have been familiar with it as the home of Mark Twain. Hartford at the time had its own social structure and society bluebook.
Shortly after meeting Henrietta in January 1910 Hans returned to Hartford buying the Valley Falls property in March 1910, obtaining a mortgage of $500 from the People's Bank of Rockville based on his prospects. At the time the only buildings at Valley Falls were the 1850 farmhouse, the barn across the street and the old mill's tenant house. To maintain the property he hired the Michaels, a German family to live there, probably in the tenant house, while he lived in the farmhouse. Husband Philip Michaels was the farm foreman, wife Katherine a servant and they had three small children. In addition there was an unmarried hired man from Germany.
However they courted they were married in Louisville at Henrietta's home on June 24, 1911. Was Henrietta truly so in love with Hans that she would leave her friends and family at 51 and marry a man 22 years her junior? Or might she have seen this as an interesting adventure with a dashing young man in a booming Eastern city? She was too intelligent to realize it might not last.
Henrietta's Two Years In Connecticut
When Henrietta came to Connecticut in that Summer of 1911 it is unlikely she lived at the old farm. As she did in Selma she may have stayed in a Hartford hotel or rented quarters in a house. Hans office was in Hartford and the railroad provided convenient travel back and forth to Vernon.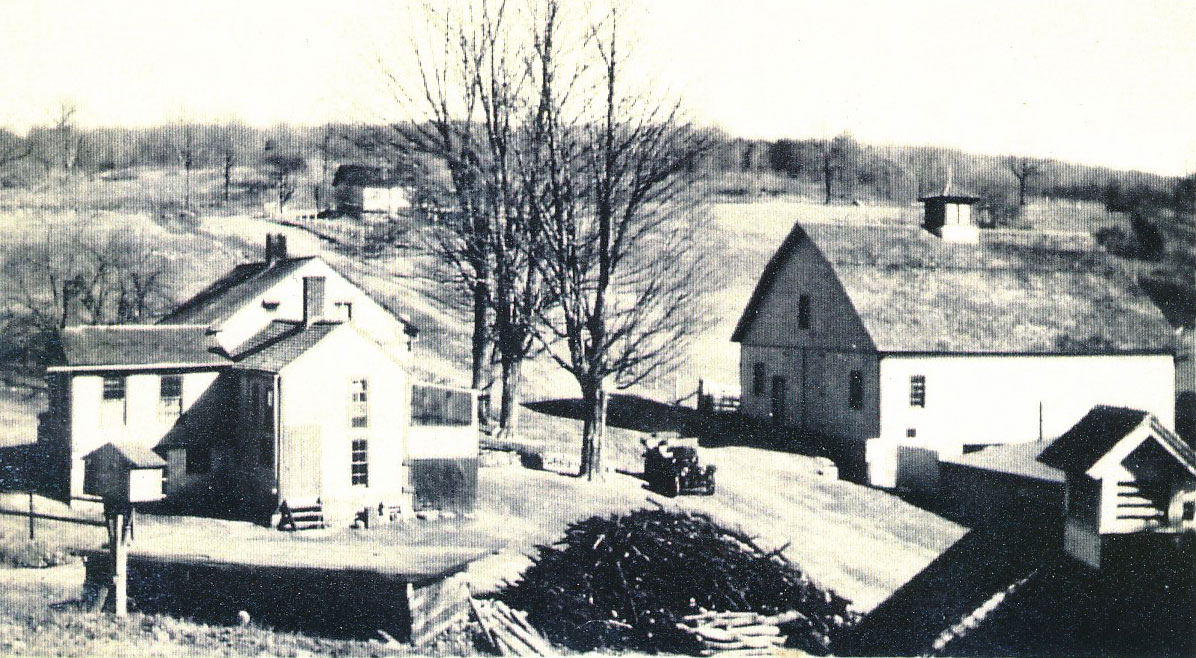 Valley Falls Farm about 1912. 'The Alabama' is the house up the hill on the corner.
Hans convinced Henrietta to finance his transformation of the old Valley Fall farm into a modern, European style gentleman's farm. As a January 1912 piece in the Hartford Courant said, "he has his barns completed and equipped with modern conveniences, running water and steam heat. In the spring he plans to build a new house and lay out the grounds, including a new road to his buildings from the highway." The house was not new, but a converted tenant house on Bolton Road he named 'The Alabama' for Henrietta. It's unclear how much time she spent in the bungalow. When the Beaches bought the property they used it for guests while building their summer house and later for employees.
Read the story of 'The Alabama.'
It only took a year for things to began to sour for Henrietta. As an experienced business women she must have paid close attention to Hans' lavish expenses and the money he borrowed for the property. She may also have become aware of his affair with his young Rockville stenographer, for in April of 1912 she had Hans transfer most of the Valley Falls property to her, which would protect some of her investment. In June they took two additional mortgages on the property for $2,600 and $1,800.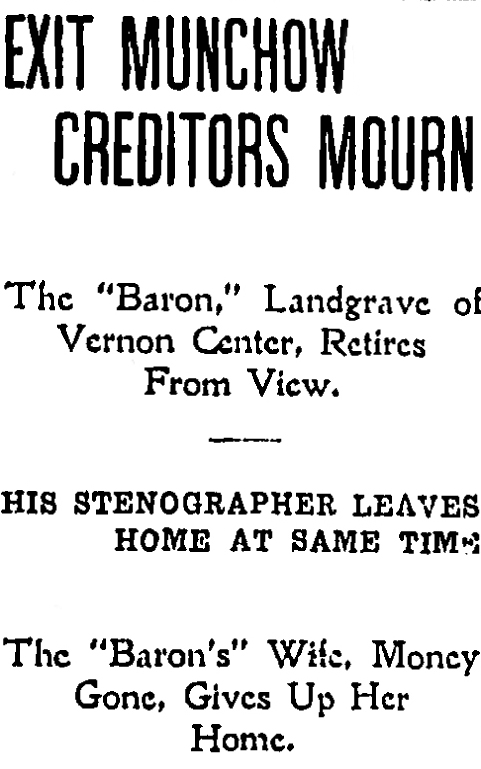 The April 24, 1913
Hartford Courant headline.
Through the rest of 1912 Hans promoted his business heavily with ads in the Hartford Courant. He must have had some success and certainly enjoyed his life as a gentleman farmer. He drove a new car, had a team of horses and promenaded around Rockville and the area showing them off. Although heavily in debt this was Hans peak moment in life and he made the most of it. According to Lutz he drove a narrow carriage drawn by a lovely dappled grey horse with his Great Dane next to him. At other times he rode his saddle horses along the trails through the woods nearby.
In 1913 it all came tumbling down.
Hans had a booth at Hartford's big annual February automobile show at the Hartford Armory. In March he returned alone to Germany - likely to consult with his employers. But a World War was looming and perhaps Geschwa wasn't happy with sales in America. Shortly after he returned he gave up his office in Hartford and Hans and Henrietta rented a flat on Albany Avenue for a month.
On April 24, 1913 a headline in the Hartford Courant read "Exit Munchow, Creditors Mourn." Hans had vanished leaving thousands of dollars of debts. His stenographer Rose Martin left with him.
Henrietta told the newspaper she knew nothing about his leaving and moved into the home of an Allen Page on New Britain Avenue in Hartford. Perhaps this was the Hartford home she used during her two years here.
Henrietta paid off Hans' debts including four mortgages, a tax lien to the Town of Vernon, and a credit account with the Brown Thompson department store in Hartford. She moved quickly and in August sold the 154-acre Valley Falls property to Anna Werner, another female German land investor, for $8,000. Werner would sell it two years later in 1915 to Mary Batterson Beach.
Life After Hans
Then Henrietta returned to Louisville after recovering most of her money through the sale the Valley Falls property. How did she feel about her adventure in Connecticut? Did she feel she had been taken advantage of? Was she angry at herself for letting it happen? Or was she not too surprised?
By September, five months after Hans vanished, Henrietta was back in the game foreclosing on a mortgage in Selma. We get a glimpse of her life after Hans over the next 25 years from Selma and Louisville newspapers.
For a time in 1919 she lived in St. Louis, Missouri as well as her relative's home on Sycamore Street in Louisville. This would be her primary home for the rest of her life with annual visits to Selma and the Hotel Albert.
In 1922 she and Hans formally divorced in Bridgeport, CT, although she continued to use his name throughout her life.
Not finished with travel she spent the summer of 1929 in Europe visiting Norway, Sweden and other countries and returned to Europe in 1930. That year the stock market crashed followed by the depression. We don't know how that affected her financially, but she continued to live at the same address in Louisville with her cousin W. Harold Franz and continued visiting Selma each year.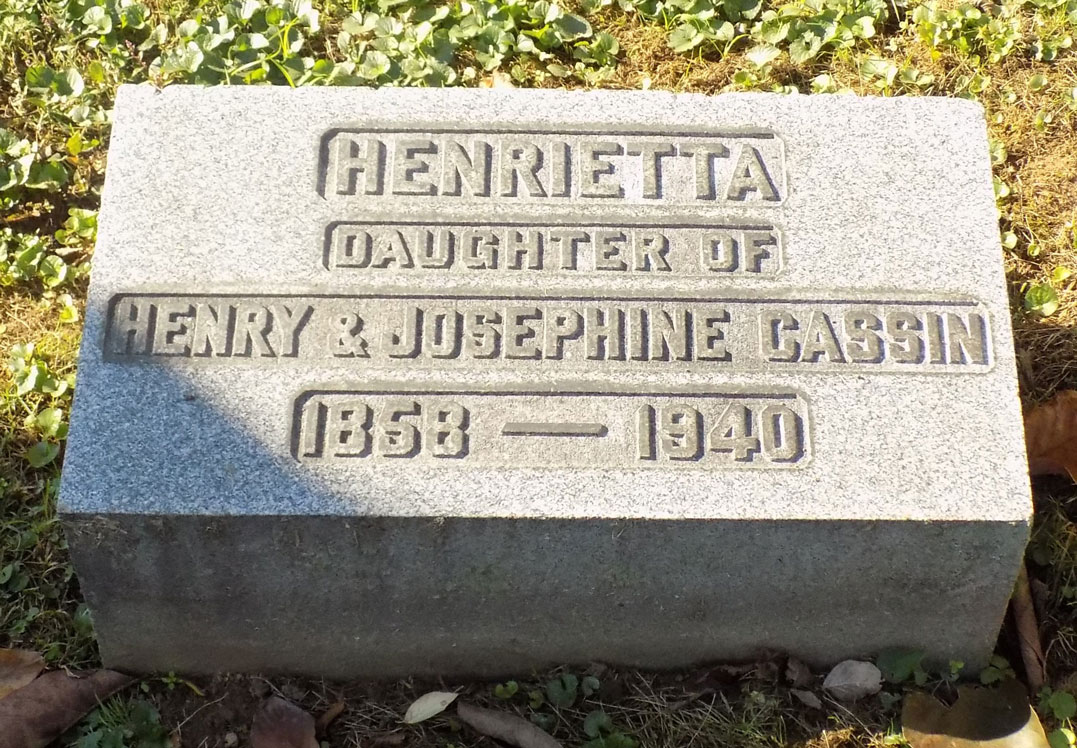 Henrietta's grave in Louisville.
Source: findagrave.com
Her health began to decline about 1935 and she finally died in 1940 at the age of 81, outliving Hans by a year. Henrietta is buried at the Cave Hill Cemetery as were her parents and the Frantz family. Her gravestone does not bear the Munchow name.
Henrietta certainly lived an interesting life from the end of the Civil War to the beginning of World War 2. She took full advantage of her status and the times to travel widely participating in the social life of Selma and Louisville. And for 50 years she was a successful business woman.
How did she look back on her two years in Hartford? There must have been letters back and forth to her sister and friends that would shed light on her personality and Hartford experience. Perhaps more will be uncovered.
Henrietta's legacy to Vernon was financing the transformation of Valley Falls Farm from a small New England farm to a European style gentlemen's farm. This was probably a key part in the Beach's decision to build their Summer residence in Vernon. The Beach family would keep the farm and today's park intact through much of the Twentieth Century, such that today both have been preserved for ours and future generations to learn from and enjoy. All thanks to Henrietta's adventure with Hans.
Anna Werner
Anna Werner owned Valley Falls Farm from August 1913 to June 1915 when she sold it to Mary Batterson Beach. The deed transferring the property from Henrietta Munchow to Anna Werner gives Werner's residence as Fredericksburg, Virginia. As they are both German it was thought Werner might have been a relative of the Cassins who stepped in to help Henrietta. At the time Rockville had a large German population with many German social clubs where they might have met.
Now, however, it appears that Werner, like Henrietta, invested in real estate. Although Valley Falls seems to have been her first purchase in Connecticut Anna continued buying and selling properties in Manchester, Hebron and other area towns through 1927. In these deeds her residence is listed as Vernon. She probably did not live at Valley Falls Farm, but may have stayed at Hotel Rockville or boarded in Rockville.
We don't know what first attracted her to Vernon. More research needs to be done.
Sources
The research for this page was primarily from online records and newspaper articles using ancestry.com, findagrave.com and newspapers.com. Records included the 1860, 1870, 1880, 1900, 1910, 1920 and 1940 census reports, passenger manifests, and local deeds.
'History of Valley Falls Park' by Carol & Ronald Burke.
Lutz, Hazel P. (1976). Vernon Vignettes, Volume II. Vernon Historical Society. 76 pages. Short stories of Vernon's past including Valley Falls.
Jackson, Sharon J. (2014). Selma. Images of America. 127 pages. History of Selma and the Hotel Albert.
The primary newspapers referenced were the Hartford Courant, the Selma Morning Times, the Selma Times-Journal and the Louisville Courier-Journal.
Updated April 2021