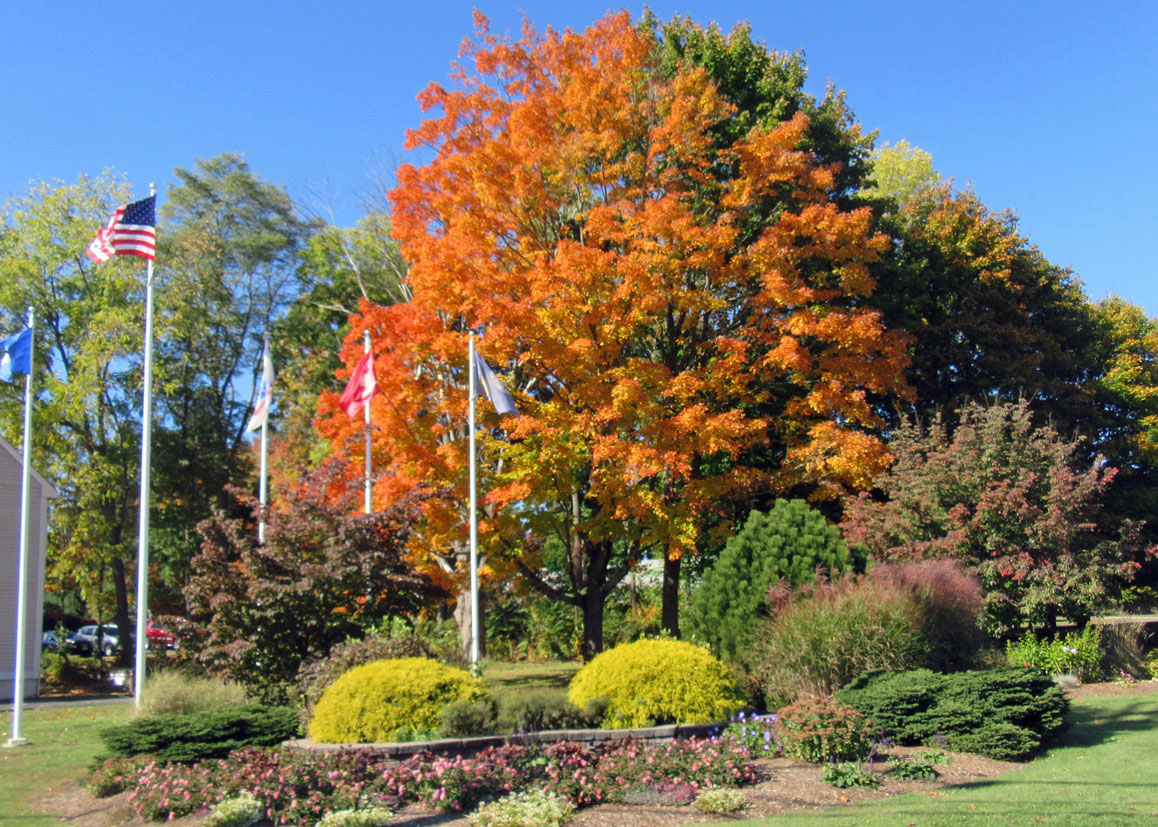 Autumn at Lafayette Square.
Upcoming Early Autumn 2023 Events
After this Summer's record rain early Autumn offers a variety of events and programs to get you and your family out of the house to enjoy the outdoors and explore town.
In addition to several talks there is Ellington's 'Farm Day,' New England Civil War Museum's 'Living History Day,' and Valley Falls Farm's 'Artists Day At The Farm' - all in the next few weeks. These three events take place outdoors - the best place to be in Autumn in New England.
Autumn is a busy season with a large number of events; too many for one newsletter. We'll send another in a few weeks with details on October and early November.
Many of the organizations sponsoring events are members of the Vernon Volunteers' Collaborative. Learn more about VVC on their website. If you would like advanced notice by email of this type of event please join our MeetUp Group. You will also find upcoming events listed on the VVC website under the 'Events' tab.
Click on images for a larger view.
Jon Roe   
---
Poetry Rocks
SUNDAY, SEPTEMBER 17, 3 p.m.: Arts Center East presents "Poetry Rocks!" Poetry In Person.
September's installment features DENNIS BARONE, KAREN WARINSKY, and a Rockville High student poet at Arts Center East in Vernon.
Co-sponsored by Rockville Public Library, the quarterly event includes an open mike session, refreshments, and book sale.
It is free and open to the public, although a $5 donation is suggested and much appreciated.
Arts Center East is located at 709 Hartford Turnpike, Vernon. For directions and more information email [email protected].
---
VGC: Gifts From The Garden
MONDAY, SEPTEMBER 18, 7-8:30 p.m.: Join the Vernon Garden Club for "Gifts From The Garden."
Members will bring for auction something each has created from their garden bounty this summer. Items may include flavored vinegars, seeds, plants, fresh or dried herbs, flowers, vegetables, hand-made items or baked goods.
A lively auction presents a chance to renew friendships and begin a new VGC calendar year. Guests are always welcome at meetings.
The program will be held at the First Congregational Church of Vernon, 695 Hartford Turnpike in Vernon. For details call (860) 926-4332. Guests are always welcome.
---
Ellington Farm Day
SATURDAY, SEPTEMBER 23, 10 A.M. - 3 P.M.: Start your day off with a visit to the Ellington Farmers' Market in Arbor Park (9 a.m. to 12 p.m.), then stroll down to the Nellie McKnight Museum to learn the history of Ellington farming at the Ellington Historical Society's Farm Exhibit.
Next stop at the Hall Memorial Library where you can watch live chicks hatch and kids can create a chicken-themed craft. You can take a cruise around town and visit one or more of the participating farms like Oakridge Dairy and the Modern Milkman and see how a modern-day dairy farm operates.
Stop at DeCarli's Equestrian Center or Hillside Stable for a pony ride and learn about riding lessons and boarding opportunities. Visit SJ Riding Camp to visit their summer camp facilities.
Be sure to visit the quaint farm store at Johnny Appleseed's Farm for freshly picked apples, the Back to Roots vegetable stand for a variety of veggies, and pick up some hardy chrysanthemums at Back to Roots Mums. Stop at Dzen Garden Market for farm-fresh products and take advantage of their two-for-one small ice cream cone offer.
---
FOVF: Rachel Carson Speaks
SUNDAY, SEPTEMBER 24, 1 p.m.: Join the Friends of Valley Falls for their Annual Meeting. Speaker BEV YORK revisits "Silent Spring."
"Silent Spring," published in 1962, outlined the death of animal life as we know it due to the indiscriminate use of pesticides. Carson fought hard and finally won the battle of being a woman scientist and taking on the big chemical corporations.
BEV YORK presents programs on local, Connecticut and national history. Her style incorporates interactive and visual materials to enhance her lectures. Bev tells the story of Rachel's quarrel with the manufacturers and today's urgent campaign against worldwide pollution and poisons.
The Heritage Center at Valley Falls Farm will be open following the program.The Heritage Center includes displays on the many colorful owners of the farm including rifle designer CHRISTIAN SHARPS, a phony Hungarian Count, and the Beach Family, who ran the farm and park as a gentleman's farm in the early 20th Century.
Everyone is welcome. Meet in the basement of the Red Barn at Valley Falls Farm, 345 Valley Falls Road in Vernon.
Parking is limited at the Red Barn, please park at Valley Falls Park and walk up the scenic trail to the Barn.
---
NCLT: Bobcats & Fishers
SUNDAY, SEPTEMBER 24, 5:30 - 8 p.m.: The annual meeting/potluck dinner of the Northern Connecticut Land Trust will be held at the Somers Congregational Church. Following a social time and potluck supper there will be a short business meeting followed by our featured speaker.
Our guest this year will be GINNY APPLE of Barkhamsted, a Volunteer Representative of the CT Dept. of Energy and Environmental Protection. Her presentation will be on "Bobcats and Fishers."
The Somers Congregational Church is located at 599 Main Street in Somers. Bring a dish to share and your own dishware and utensils. Beverages will be provided unless you wish to bring your own adult or other selections.
---
NECWM: Living History Day
SATURDAY, SEPTEMBER 30, 10-3: Come celebrate the New England Civil War Museum's (NECWM) 'Living History Day' featuring Civil War re-enactors setting up camp in the park and re-creating camp life. They will demonstrate and describe for visitors the life of soldiers, sailors and civilians during the Civil War.
The Civil War Museum will also be open for visitors to view its collection of uniforms, equipment and firearms. Museum visitors can follow a timeline of a solder's experience from enlistment as citizen soldiers to their meetings as Grand Army of the Republic veterans in the museum's historic Great Hall.
Children can try on uniforms and have their photos taken, learn to march with the soldiers and join in other interactive events. Included will be loading and firing of a Civil War Cannon, civilian life during the Civil War, a scale model of the U.S.S. Monitor and model cannon firing.
At 1:30 p.m. actor KANDIE CARLE will perform "The Victorian Lady" sponsored by Vernon's newly created Cultural District Advisory Board. As the Victorian Lady, Carle shares her passion for the Victorian period through era-appropriate garments and discusses history of the era, lifestyles and manners.
Central Park is located in front of Town Hall at 14 Park Place in Rockville.
---
FOVF: Artists Day At The Farm
SUNDAY, OCTOBER 1, 12-3 p.m.: The Friends of Valley Falls invite you to this biennial event at the farm. Artists come in the morning and choose a spot to set up, somewhere on the scenic grounds of the farm to paint in 'Plein Aire.'
Visitors are invited to come from 12-3 p.m. to watch the artists paint, enjoy the vistas and perhaps purchase a painting by one of our talented local artists.
Music will be provided by the group "Oh, Brother" and DOROTHY HALL will speak in the Stable at 2 p.m. on "AI in the Art Community." The new Heritage Center will be open as well; your last opportunity to visit it this year.
Come with your family and friends and spend a lovely fall afternoon at Valley Falls Farm and Heritage Center. Check in at the Red Barn basement for info. Admission is free. Parking is available at Valley Falls Park, just a short path away from the action at the Farm and the Red Barn.
---
RPL: Witches In Connecticut
TUESDAY, OCTOBER 3, 6-7:30 p.m.: The Rockville Public Library presents the harrowing story of the hanging of witches in colonial New England which continues to haunt our present-day imagination. The trials and executions of witches in Connecticut predated the more famous Salem witch panic by over 40 years.
Hear the stories of some of the women and men accused, tried and executed as witches and learn how Connecticut successfully controlled the spread of witch accusations long before Salem erupted in panic and violence.
The program will be presented by ANNIE O'BRIEN of the Connecticut Historical Society.
Registration is required.
---
NECWM: Joshua Chamberlain In The Civil War
THURSDAY, OCTOBER 5, 7:30 P.M.: The New England Civil War Museum (NECWM) presents BRIAN SWARTZ, Civil War historian and author of "Passing Through the Fire: Joshua Lawrence Chamberlain in the Civil War."
Swartz's presentation chronicles Chamberlain's swift transition from college professor and family man to regimental and brigade commander. A natural leader, he honed his fighting skills at Shepherdstown and Fredericksburg.
Praised by his Gettysburg peers for leading the 20th Maine Infantry's successful defense of Little Round Top, an action that would eventually earn him Civil War immortality, Chamberlain experienced his most intense combat after arriving at Petersburg.
The program is free and will take place at the NECWM, 14 Park Place in Rockville.
---
Also Coming In October
We'll send another newsletter in early October with information on October and early November.
October 6-7 - RPL Play "The Miraculous Journey of Edward Tulane"
October 6-22 - Dionysus Theatre's play "Sedar"
October 7-8 - Bolton's Living History Weekend
October 15 - NCLT's Webster Preserve Walk
October 15 - Vernon Historical Society's "Tolland County Agricultural Center"
October 16 - Vernon Garden Club's "How To Care For Your Bonzai"
October 21 - Tolland County Seniorhood Fair
October 22 - Strong Family Farm's "Harvest Festival"
October 28 - The Vernon Conservation Commission's "Riffle Bioassessmant By Volunteers"
You can also visit our Tankerhoosen website and 'Like' our Facebook page.
To receive the next newsletter