Allyn Stanley Kellogg - Vernon's First Historian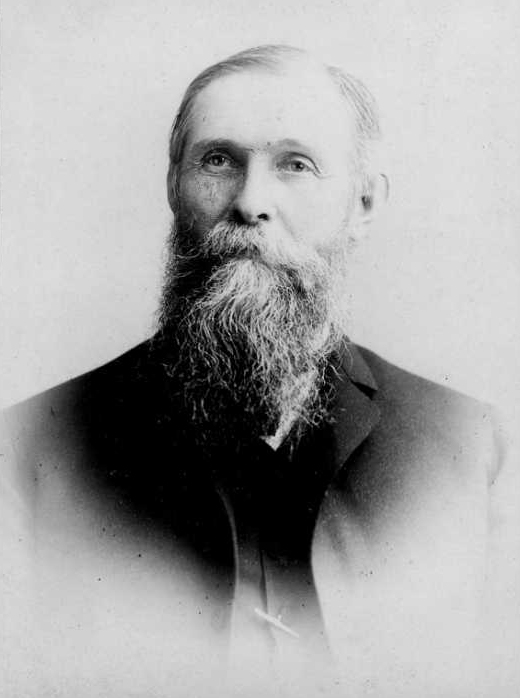 Allyn Stanley Kellogg
Ancestry.com. Unconfirmed.
Allyn Stanley Kellogg (1824-1893) was Vernon's first true historian. Others of his time wrote memoirs relating to Vernon history, but Allyn Stanley was the first to do significant research as part of his work.
He was born on October 15, 1824 to Deacon Allyn Kellogg (1794-1873) and Eliza White (1807-1876). Deacon Allyn was the son of Ebenezer Kellogg, Jr (1764-1812) and the grandson of Rev. Ebenezer Kellogg (1737-1817), the first pastor of the Congregational Church in Vernon.
Allyn Stanley grew up and spent most of his life in the house built by his grandfather Ebenezer Jr. around 1795. Located on the corner of Hartford Turnpike and Vernon Avenue, the house still stands today.
Deacon Allyn had four children. Allyn Stanley was the oldest, with a brother Martin born in 1828, and twin sisters born in 1832. The twins did not survive.
At the time of his birth both his grandfather and great grandfather had died so he did not hear stories from them directly. However his great Uncle Thomas Kellogg, a son of Rev. Ebenezer was still alive as were many other close relatives who were prominent members of the community, including George Kellogg, who with Frances McLean built many of the early mills in Rockville; Nathaniel Kellogg, who built Kelloggsville, the forerunner of Talcottville; and a cousin Harriet Kellogg Maxwell, who married George Maxwell builder of the future Rockville Hospital and Library.
All were very religious and active in the Congregational Churches in Vernon and Rockville. Family and holiday dinners must have been interesting and educational.
Since Allyn Stanley's name was easily confused with his prominent father Deacon Allyn he always used his middle name or initial. He often signed his writings just A.S.K.
He joined the Vernon Church in March 1842 at the age of 17 and was a member until he moved to Hartford in 1875.
Allyn Stanley chose to go into ministry rather than industry and graduated from Williams College in 1846 with high honors. He went on to Yale Theological Seminary and graduated in 1850 at age 26.
Still unmarried he probably was eager to begin his ministry. He preached under a licensure of limited date for a few years in Hagamans Mills, NY and then in Chandlerville, IL. Unfortunately his health was not good. Soon he had to resign his position and return to Vernon to live with his parents.
Return To Vernon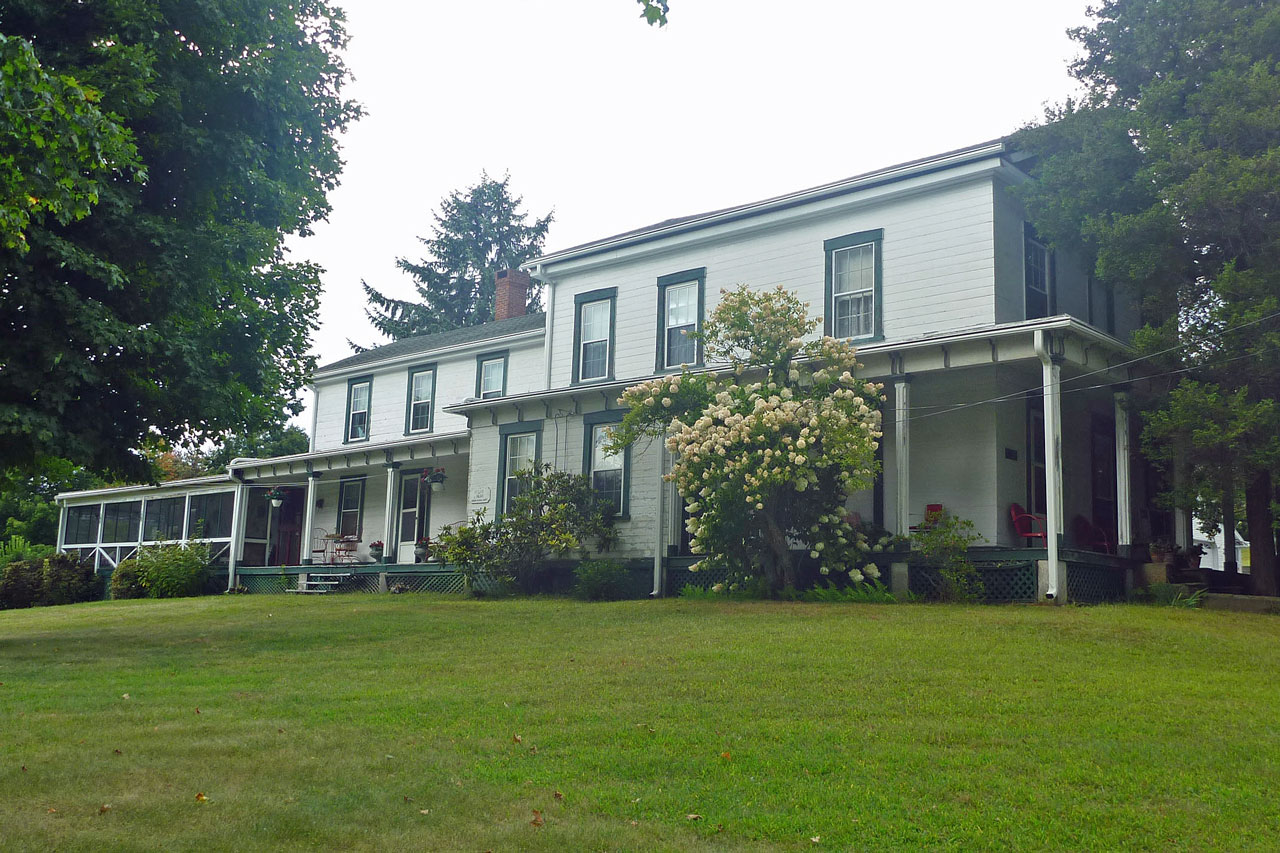 1877 ad for Henry Cassin's business.
Click on images to enlarge.
Upon his return to Vernon Allyn Stanley became active once again in the Vernon Congregational Church, delivering sermons at times. Very intelligent and curious he explored his mother's White ancestry. In 1860, after extensive research, he published a lengthy biography of Elder John White, and a detailed genealogy of White's descendants.
About 1861 he succeeded his father as Clerk of the Vernon Congregational Church and held the position for 13 years until he moved to Hartford. He was also a member of the Connecticut Society, Sons of the American Revolution through his mother's White ancestors.
On May 12 1864, at the age of 40, he married Maria Lauriana Avery (1828-1880) of Auburn, NY. She was 36.
Their first child was Charles Allyn Kellogg (1865-1923), who would be his only heir. Charles will marry Nina Fales Pearce in 1887 and move to Newtonville, MA where they lived and are buried in the Newton Cemetery. Allyn Stanley will spend his last days with them.
Allyn Stanley and Maria also had a daughter, Marion Chedell, born in 1875 in Hartford, who died as an infant. With a ten year span between children it is likely there were a number of miscarriages. Maria was in her late forties at Marion's birth.
The 1870 Census shows Allyn Stanley, Maria and son Charles living with his parents in Vernon. His occupation is listed as 'At leisure.' It was not unusual for children to care for their elderly parents as seems to be the case here. Allyn Stanley was not a farmer and his health would not have allowed him to do hard work. This freed his time for research and writing. In 1869 a tenant house owned by the Kellogg's stood on the corner next to their home. A shopping plaza now occupies the site. The family living there likely cared for their farm.
Deacon Allyn died in 1873 at age 79 after a long life of service to Vernon. To his family he left the homestead where he was born and died. Having invested well in Rockville businesses he died a wealthy man with an estate valued at almost $40,000. His only heirs were Allyn Stanley and wife Eliza who lived with him, and Allyn Stanley's brother, Professor Martin Kellogg. Martin had a remarkable career. In 1855 he moved to California as a minister, then become a teacher of Latin and mathematics at the California University of Oakland. He eventually became the President of the University of California.
Deacon Allyn's estate was divided evenly between his three heirs. Besides the farm he owned 22 shares of Rock Manufacturing Company stock worth $22,000. Allyn Stanley's mother Eliza died a few years later in 1876 leaving an estate of $6,000 to her sons and their families. This inheritance would support Allyn Stanley while he continued his work.
Leaving The Kellogg Farm
With his father's death Allyn Stanley decided to sell the farm and move to Hartford with his family including his mother Eliza. They moved in 1874 to 27 Niles Street. (The site is now a parking lot.) The house was just a short walk from the Asylum Hill Congregational Church where he transferred his membership. For the remainder of his life he was devoted to Asylum Hill, but never forgot his connection to the Vernon Church.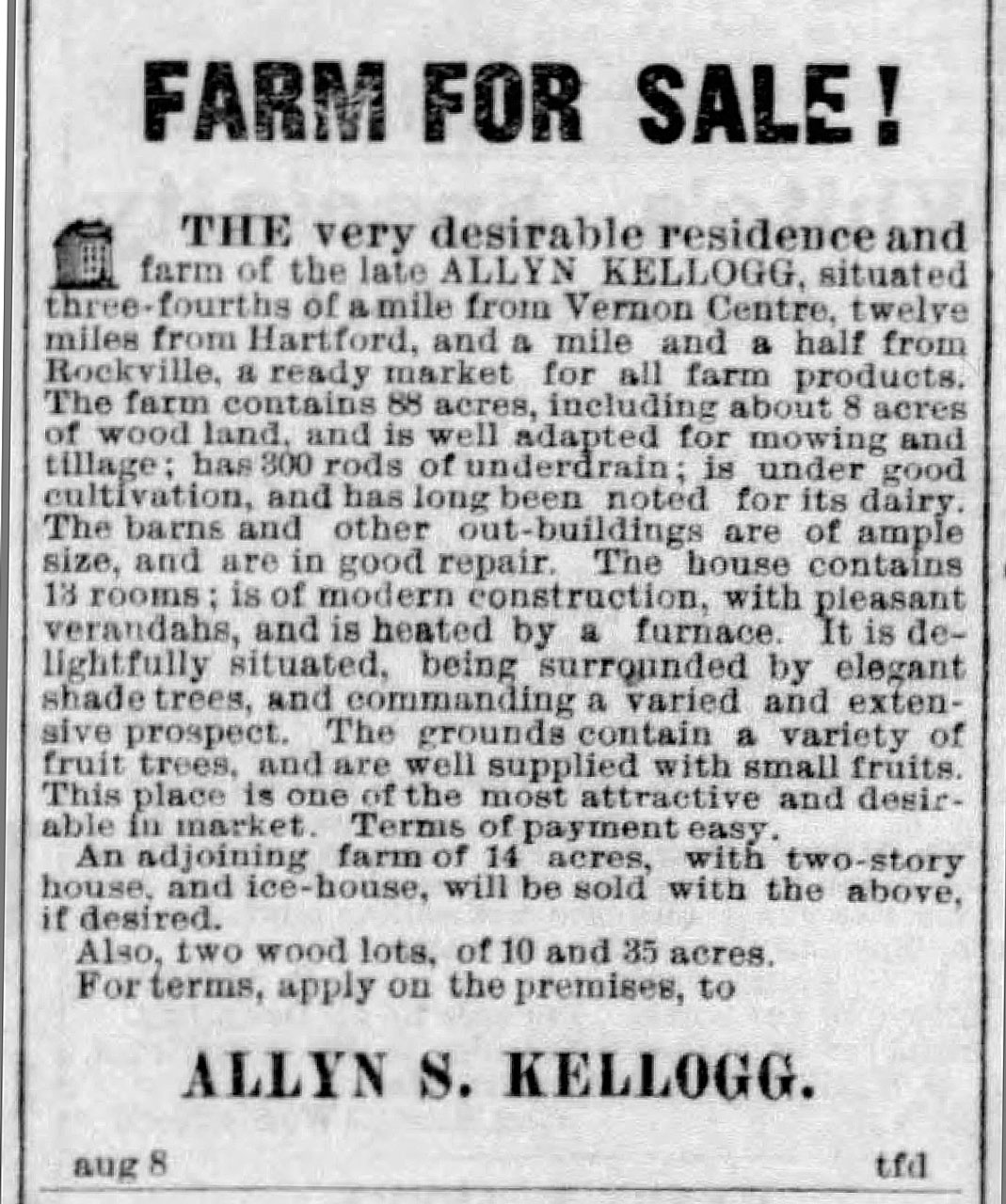 1875 Hartford Courant ad.
In April of 1874 in preparation for selling his father's property he had a survey and map made titled 'Plan of the Allyn Kellogg Farm.' Maps of this type rarely survive to the present and this one shows the many parcels accumulated over time by his family as well as who the neighbors were at the time. It includes the year parcels were purchased, and by which member of the family, facilitating the search of deeds.
In the summer of 1874 Allyn Stanley ran an ad in the Hartford Courant advertising 'Farm For Sale!' The listing says the farm contains 88 acres and is noted for its dairy. The house contains 13 rooms and is of modern construction with pleasant verandahs and is heated by a furnace. The grounds contain a variety of fruit trees . An adjoining farm of 14 acres with a two-story house and ice house can be sold with the main house. This might be the Tenant House. There are also two other wood lots of 10 and 14 acres.
Apparently the property didn't sell because in March 1878 he runs another ad offering to rent the house 'formerly the residence of the late Allyn Kellogg.' He must have rented the farm and used it as a source of income as it was not sold until after his death. His estate in Dec. 1893 sells 87 acres, including the house, to Nathan Lanz. The corner became known as Lanz Corner and the house is still today owned by the Lanz family.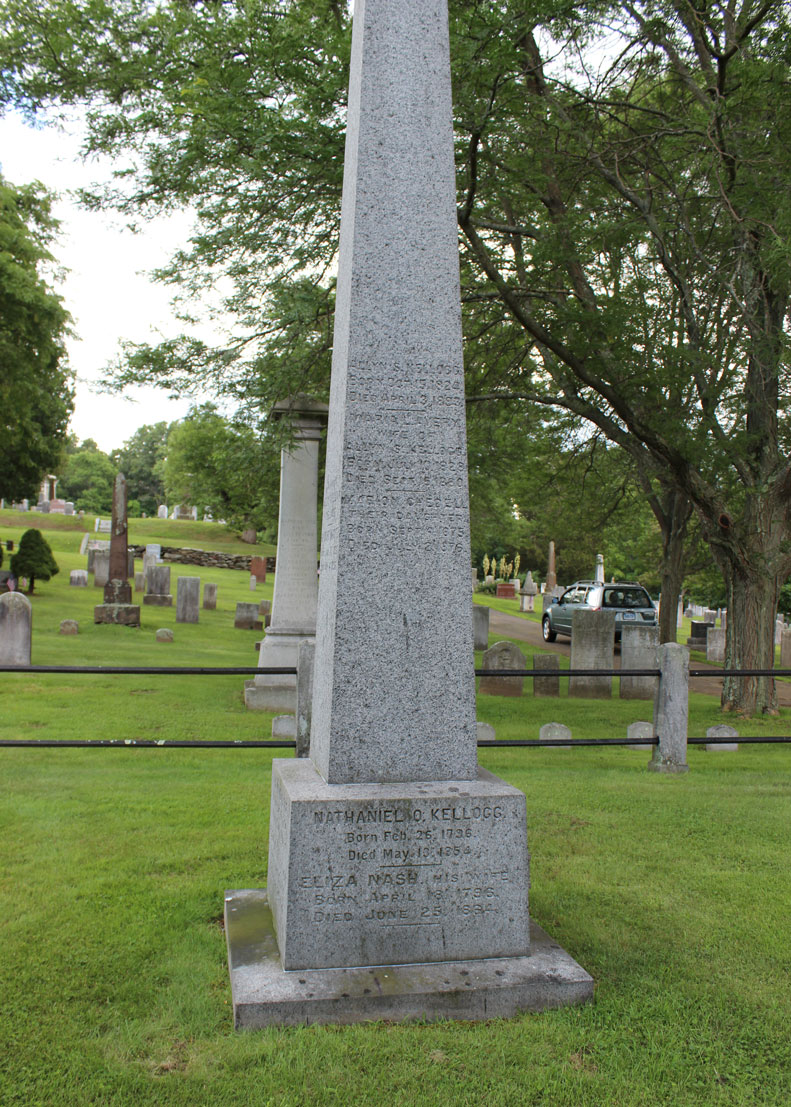 Kellogg monument in Elmwood Cemetery.
Click image for closer view.
Allyn Stanley's mother Eliza died a few years after her husband in 1876. In the 1880 Census the family is still living in Hartford with their 15 year old son. His occupation is listed as 'Literary,' so he is continuing to research and write. His wife Maria dies in 1880. He remains in Hartford with his son.
In October 1887 Allyn Stanley's only son Charles Allyn Kellogg, living in Boston at the time, marries Nina Fales Pearce at the Asylum Hill Congregational Church in Hartford with a reception at Allyn Stanley's nearby house.
In 1887, late in life, he was asked to give an address relating to the formation and early history of the Church of Christ in Vernon. He delivered the address on Sunday, January 22, 1888. As it included some account of the daughter churches in Rockville (at the time there was a 1st and 2nd Church of Christ in Rockville) he was asked to repeat the address in that city. Ill health prevented a public delivery, so the address was revised a bit and published in 1894 after his death as "The Church of Christ in Vernon Connecticut: An Historical Address."
In the late 1880's a number of articles written by Allyn Stanley were published in the new Rockville Journal as he continued writing. Other publishers of genealogies and town histories often credited him as he was generous with his support. The author of a book on the Stanley family said in 1887, "Dr. Warren acknowledges invaluable aid received from Mr. Allyn Stanley Kellogg of this city in the preparation of the work, and undoubtedly a large portion of the book is the result of Mr. Kellogg's research. His known zeal and care in this direction are guarantee of faithful work."
As Allyn Stanley's health declined he moved to Newtonville, MA by 1891 to live with his son. There he died of heart disease on April 3, 1893 at age 69. Allyn Stanley and Maria were returned to Vernon where they are buried in the family plot in Elmwood Cemetery with their daughter Marion.
Three of the people most important to Allyn Stanley - His father, wife and son.
| | | |
| --- | --- | --- |
| | | |
| 1862 Deacon Allyn Kellogg. | 1864 Maria Lauriana Avery. | Charles Allyn Kellogg. |
Allyn Stanley Kellogg's Legacy
Although a mixed blessing it was likely due to Allyn Stanley's poor health that he returned to Vernon and became interested in his mother's family and then preserving the history of his great grandfather's church and the early history of Bolton and Vernon. With a scholarly background he was a thorough researcher and good writer. These are some of the things we have to thank him for. Without his work and passion much of our early history would have been lost.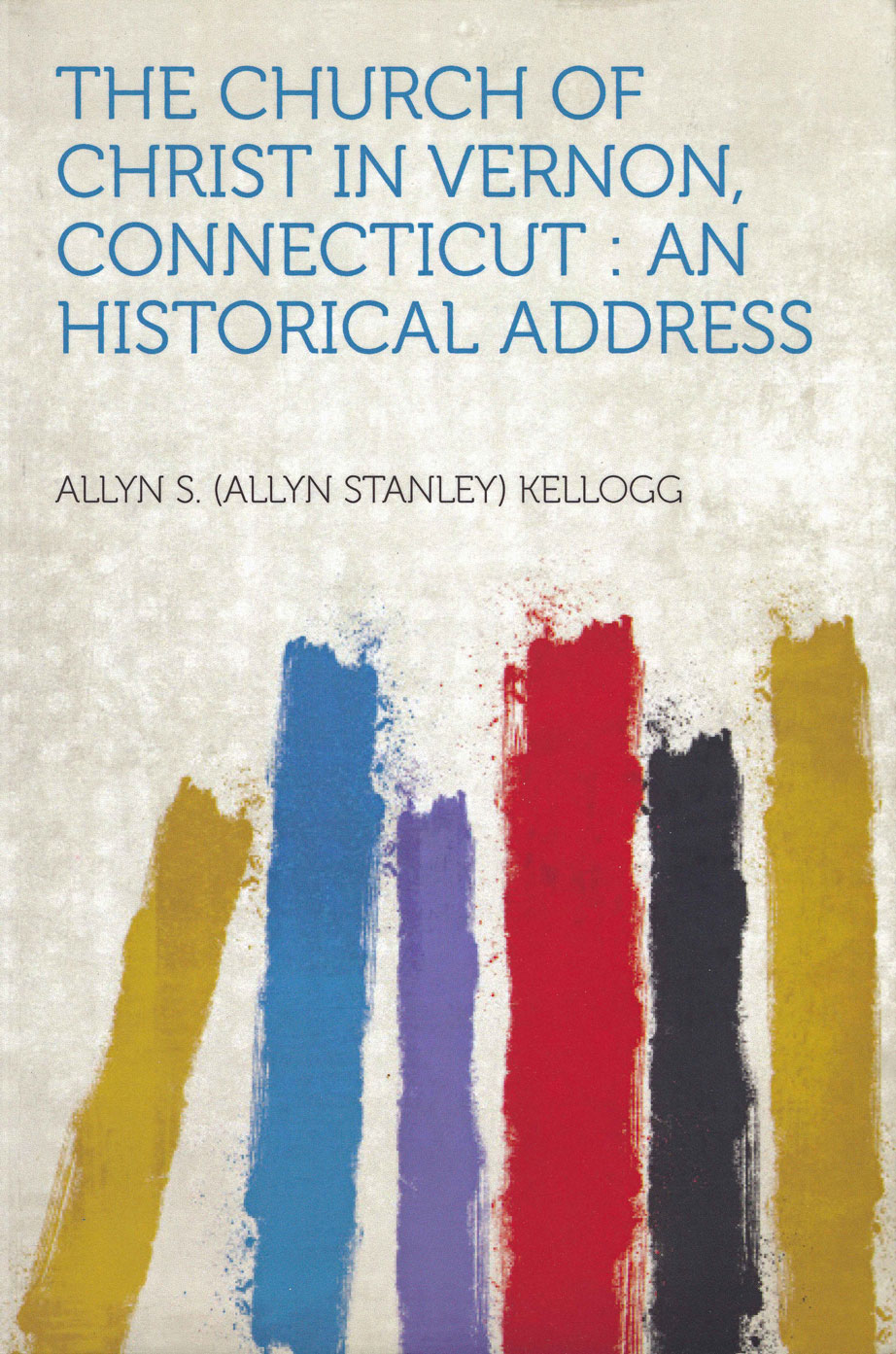 • "The Church of Christ in Vernon Connecticut: An Historical Address" gave us knowledge of the founding of North Bolton and its eventual separation of Vernon including the formation and early history of the Church of Christ in Vernon. He delivered the address on Sunday, January 22, 1888. As it included some account of the daughter churches in Rockville (at the time there was a 1st and 2nd Church of Christ in Rockville) he was asked to repeat the address in that city. Ill health prevented a public delivery, so the address was revised a bit and published. This work is still in print and became the primary source of our early history referenced by later Vernon historians. It's a short volume, about 50 pages with large print, but includes a lot of detail. Thanks to Allyn Stanley's brother Martin we still have the book. Martin gifted a copy to the Library of California in 1894. This book was copied, reprinted and is available on Amazon.com. It was also digitized in 2007 for the Internet Archive and is also available online.
• "Memorials of Elder John White", published in 1860, was in terms of size and effort his major achievement. It was a genealogy of his mother's side of the family beginning with Elder John White, one of the first settlers of Hartford. At almost 350 pages this must have consumed a lot of his time after he returned to Vernon. In the introduction he says he visited about 40 towns and examined over 60 sets of public records examining original sources wherever possible. An extensive effort was made to reach descendants requiring a great deal of letter writing. Although this work does not focus on Vernon a number of John White's descendants did live in Bolton and Vernon including Rev. Thomas White, the first pastor of Bolton. Reprints of this work are available.
• "History of Tolland County, Connecticut" was published in 1888 by J. R.Cole. This is a massive book with chapters on each town in Tolland County as well as chapters on early history and biographies of Distinguished Citizens. Allyn Stanley wrote much of the Vernon-Rockville entry. Although he is acknowledged in the Preface we don't know who actually wrote each section. One of the biographies is of Rev. Ebenezer Kellogg, so Allyn Stanley had the opportunity to commemorate his great grandfather, as well as be sure the facts for Vernon were correct. This work is also referenced by later Vernon and Rockville historians.
• 'Plan of the Allyn Kellogg Farm.' At his father's death, Allyn Stanley commissioned a rare early property map providing insight into development by the Kellogg family of the Bamforth Road, Vernon Avenue and Hartford Turnpike intersection. A copy is available at the Vernon Historical Society.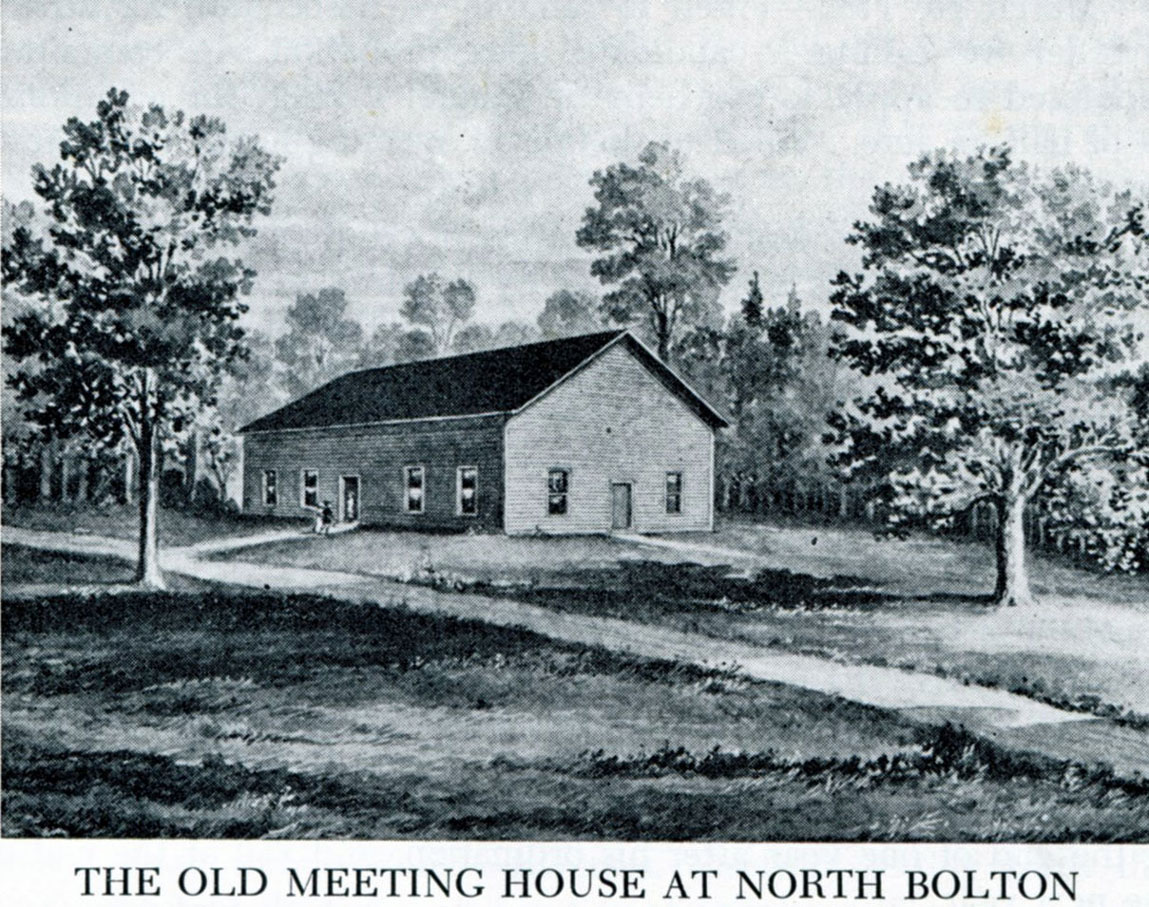 Pen and ink drawing based on description
furnished by Allyn Stanley Kellogg.
• The 'Sketch of The Old Meeting House At North Bolton' as printed in Brookes "Cascades and Courage" was drawn for Allyn Stanley providing us our only glimpse of what our first meeting house looked like.
• Early Congregational Church records. During the 13 years that Allyn Stanley was Clerk of the Vernon Church exploration and preservation of the earliest records were important to him and a major source for his later published work. He hand copied the earliest minutes and records, perhaps for his own reference, but these became invaluable as the original records were destroyed in a fire. These copies, letters and other documents attributed to Allyn Stanley are in the Congregational Church files.
• Published articles. In 1883 The Rockville Journal began publishing a number of scholarly articles on early Vernon by Allyn Stanley signed only as 'A. S. K.' These are well researched and often provide information new to us today. We have only a few, but have not made a thorough search of the old newspapers. There are probably other Kellogg articles to be discovered when the newspapers are digitized.
• Notebooks. All the Kellogg's from Rev. Ebenezer to Allyn Stanley kept notebooks or journals that were passed from father to son in their wills, along with other books and pamphlets they had collected. Allyn Stanley's included notes from his research and partial articles he was working on. Few of these have survived, but in the CT Historical Society's collection we found a collection of his notes on the Revolutionary War taken from town records referring to men from Bolton and North Bolton.
A Last Treasure Hunt
During the Nineteenth Century people wrote letters and Allyn Stanley communicated frequently with other researchers. Besides the received letters he posted what he learned in notebooks. It is likely many of Allyn Stanley's letters still exist.
Before he died he was concerned about how his letters and notes would be preserved. The Fifth Bequest in his Will addressed this at length as follows:
"I give to the Church of Christ in Vernon of which the Rev. Ebenezer Kellogg was the first pastor, all my papers, pamphlets, and manuscript books, relating to the history of that church and of its members or to the history of the town of Vernon, except copies and extracts from the Church Records, and except all other papers which it may appear were not intended to be included in this bequest: the same to be carefully preserved; liberty being granted to any suitable person to consult and use them for historical purposes.

"And I also give to said Church, in trust, the sum of $100, the said sum to be used and expended for the purpose of procuring a suitable fireproof safe, for the safe keeping of the records and other papers of said Church and of the papers and manuscripts herein given to said Church.

"And I request that this Section of my Will be duly recorded in the records of said Church with the vote accepting these gifts."
Unfortunately the location of the safe and papers is unknown. We aren't even sure the bequest was carried out. The search continues as we wonder what treasures might be discovered providing new insights into Vernon's origins and early history.
And sometimes we get lucky -
In searching the Connecticut Historical Society's collections for Kellogg information we found two columns written by Allyn Stanley Kellogg and published in the Rockville Journal about the Rockville Iron Works. A November 21, 1889 article on the Iron Works was followed on November 29 with one on the source of 'bog ore' for the Iron Works. These articles used sources not available today and were both signed just 'A. S. K.' In the second article he referred to David Allis' saw and grist mills on the Tankeroosen River that were unknown until finding the article and led to research on Allis and the first grist mill in Vernon. How many more articles were published that are yet to be discovered? Digitizing the Rockville Journal may lead to other discoveries.
A letter from Kellogg to George Talcott written in 1882 recently was auctioned on Ebay by a dealer in Michigan. With the letter to Talcott Allyn was a 1798 hand-written sermon by his great grandfather Rev. Ebenezer Kellogg. We were able to bring both home to Vernon.
Sources
1874 Plan Of the Allyn Kellogg Farm. Copy at Vernon Historical Society.
Kellogg, Allyn S. (1888). The Church of Christ In Vernon, Connecticut: An Historical Address. 50 pages. History and memories of the First Congregational Church. Although primarily a church history it includes early town history also.
Cole, J. R. (1888). History of Tolland County, Connecticut. 992 pages.
Hopkins, Timothy (1903). The Kelloggs In The Old World and The New, Volume 1. A family genealogy available online.
Brooks, George S. (1955). Cascades and Courage. 529 pages. This is the classic local history book. The entire text can be found and searched online.
(2002). A History of the First Congregational Church of Vernon - 240th Anniversary. 31 pages. Includes early history of Vernon and first Meetinghouse.
Thanks to Vernon Congregational Church historian Lynn Sweet for help researching the church's records.
Some of the information and photos for this page was from online records and newspaper articles using ancestry.com, findagrave.com and newspapers.com.
The primary newspapers referenced were the Hartford Courant, The Rockville Journal.
Updated July 2020