Mills
Vernon's first mills were located in the Tankerhoosen Valley. Early farmers and settlers along the Podunk Trail, what is now Route 30, needed saw and grist mills to build homes and barns and process their grains. Not far behind were paper and cider mills. The Tankerhoosen river was nearby with enough flow for small mills in the upper river and larger mills in the lower section.
The Rev. Ebenezer Kellogg notes 14 mills in his 1800 letter, "The Society is well accommodated with mills of the following kinds: 5 Grist mills, 6 Saw mills, one fulling mill with other apparatus of the Clothiers business, one linseed-oil mill, one Cotton Factory for the spinning and twisting of cotton yarn built by and on the property of a Mr. Warburton . . ." Most of these would be on the Tankerhoosen River.
Our first textile mills were developed at what would become the communities of Talcottville, Dobsonville and Phoenixville. With limited trasportation available small communities developed around each mill with schools and churches following to serve those employed in the mills.
Eventually the larger Hockanum River with more power became the center of manufacturing and the Tankerhoosen mills began to close. This page is to commemorate our early industry and what that meant to Vernon.
Mills are listed from source to mouth, east to west, and you may be surprised, as I was, at just how many there were. For many of the smaller mills there is little or no documentation. Links may take you to other websites. Eventually we hope to summarize information here.
Gager's Mill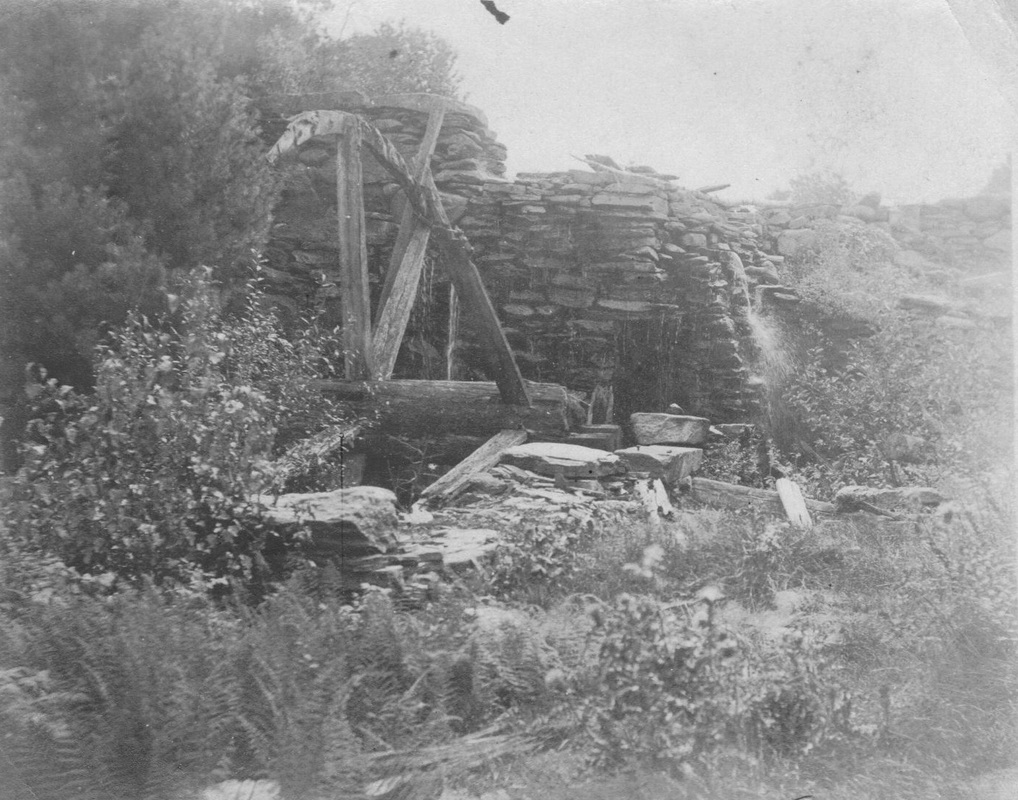 Wheel remnants from Symonds' website.
The Tankerhoosen River begins at the Walker Reservoir East dam. Several streams flow into the reservoir from the Eastern highlands that are the beginning of Tolland. The largest stream is Gage's Brook that roughly follows I-84 crossing the highway twice.
The Gager family farm was just up the hill east of Exit 67 where they had several ponds and a saw mill that were destroyed when the highway was constructed. The mill was constructed in the early 1800s but very little remains today to show mills ever existed here.
Richard Symonds has researched Tolland's early mills and published a book with his findings which includes photos of the mills and family. He found some evidence of the last mill on the brook behind the Tolland County Agricultural Center.
The 1935 aerial photos provide a glimpse of what this area once looked like.
Have not been able to determine why its called Gage's Brook rather than Gager's Brook.
» Go to Richard Symonds 'Lost Mill Sites' for more information and photos.
Walker's Mills
The Frederick Walker family lived and farmed on the upper Tankerhoosen River on land that is now part of the DEEP's Tankerhoosen Wildlife Management Area. They appear to have had several mills between Walker Reservoir East and Fish and Game Road. Documentation is limited.
The 1853 and 1869 Vernon maps show the mills just north of Fish and Game Road. There is a question as to whether there was a mill just below the Walker Reservoir East dam. What we call Walker Reservoir West is a spring fed natural body of water that is on early maps. Walker Reservoir East was likely built for the mill and connects to Walker West.
At the family's urging Norman Strong, near the end of his life, wrote the history of his family in Vernon and of Strong Farm. In it he included many family stories and anecdotes. One provided some detail on the Walker Mill. Referring to his grandfather, Norman Hollister Strong (1857-1911):
"Norman did not get along good in school, so at the age of 15 he went to work for Fred Walker by the month so he could get room and board. His job was a tail sawyer – one who takes the lumber and slabs and piles them after they come off the saw. At night he would have to shut the gate to the reservoir to build up a head of water for power the next day. He also had to care for the horses and milk the two cows. For supper he was given bread and raw salt pork. He went home on Saturdays to his mother's cooking. At that time, they live in the house across from the school in Vernon Center. On Monday mornings, he got up and walked to the reservoir to open the gate so the sawyer would have power at 7 a.m."
This would have been about 1872.
Town maps are inconsistent. The 1853 Woodford-Clark map includes Walker East and shows a building on Fish and Game Road. The 1857 Eaton-Osborn map, the 1869 Gray map and the 1888 Preston map do not show Walker East but the 1869 map shows two mills, one a Spool Shop and the other a Saw and Grist Mill. The 1890 USGS topographical map, probably the most accurate does include Walker East. Perhaps the dam broke and was rebuilt.
The FindLakes website says the dam construction was completed in 1900. They don't say where they get their information.
And it has its own Facebook Page.
Allis Mills
In the 1740's David Allis built a sawmill and probably the first grist mill on the Tankerhoosen River just below Fish & Game Road. These mills were lost to memory and not included in any of Vernon's histories although they were in use for over 50 years.
Belding Wildlife Management Area
Pond and possibly 2 others - Unknown.
Valley Falls on Railroad Brook
Probably first mill in Vernon with a sawmill here in 1740. In the 1790's manufactured oil from flaxseed. In 1850 built a 2 story wooden cotton mill, used to weave satinet. Burned in 1877. Some archeology work done. Unique for remains of worker house.
Tunnel Road Grist Mill
Grist, saw and cider mill on 1869 map. J. Blinn house across road (probably Risley house). Possible mention in Randall Talcott Diaries in 1877. Norman Strong map of 1925 Vernon Center calls this the Kanter Grist Mill. Kanter's had a farm just up the hill where the highway is now. Geraldine Strong grew up next to the mill and remembers it collapsing during a storm.
Phoenix Mills
Active by 1808. The site had first a saw mill then a grist mill and oil mill. The dam was built about 1830 with mills on both sides of river. About 1840 a large mill manufacturing cotton warp was built. It burned in 1920's.
» Go to Phoenixville & the Phoenix Mills.
Dobson Mill East (Ackersly Mill)
Dobson Mill West
Brought into operation about 1826, burned 1827 and rebuilt. Burned in 1909.
Talcott Mills
Warburton built the first cotton mill here circa 1795. Kellogg bought the mill in 1835 and developed the village and grew the mill to a 3 story building manufacturing satinet. The Talcotts bought the property in 1854 and continued to expand it. Sections were destroyed by fire n 1869 and rebuilt in major floods. Operation ceased in 1940.
Saw & Grist mill at Golfland
On 1869 map. Nothing left.
Talcott Mills on the Hockanum River
Talcott family operated several small mills and dam here before purchasing Talcottville in 1854. On 1869 map listed as the Granite Mills manufacturing album and binders, boards, manilla and press papers.