Murder On Valley Falls Road - The Evelyn Seddon Case
The Crime
On Tuesday, March 11, 1958 33-year old Evelyn Olsen Seddon stopped to visit her friend Olga Darico on Bolton Road at about 3 p.m. Long time friends from high school Olga was a bridesmaid at Evelyn's wedding ten years earlier. The visit was to bring a gift to Olga's new baby. After chatting a bit they went across the road and Olga introduced Evelyn to Mrs. Thomas Hooker where they discussed her China pattern. Then Evelyn headed down Valley Falls Road at about 5:30 p.m. saying she planned to pick up groceries in Manchester before heading home to Mansfield.
That was the last time they saw her alive.
Thomas Hooker had noticed a car parked on Valley Falls Road on the way home Wednesday night, but although a quiet road that wasn't particularly unusual. The car was off the road a little west of Bread and Milk Road and facing East towards Bolton Road. When he saw the car still there on his way to work at 9:30 a.m. Thursday morning he stopped to take a look. There he saw Evelyn's bloody body slumped behind the steering wheel and called police.
Thus began a murder investigation that would capture headlines for the next two months.
The police found that Evelyn had been shot twice at close range - once in the head and once in the neck, causing a lot of bleeding. Early investigation considered suicide, but either shot would have killed her.
Police found her with car keys in hand and a foot on the clutch. A cigarette had burned out on her coat. A thorough search of the woods found nothing.
The investigation showed that Seddon left her home in Mansfield about 1:30 Tuesday afternoon. She stopped in Willimantic to shop picking up a gift for her friend Olga. During her visit on Bolton Road she appeared perfectly normal and indicated she was on her way to Manchester to do some additional shopping before heading home. She made a purchase at King's in Manchester and had a meal in Bolton. But she didn't go home returning to Valley Falls Road, likely to meet someone.
Although married ten years Evelyn had no children and her marriage was a bit rocky. Her husband found a note from her about 11 p.m. saying she would be late getting home so he was not concerned and went to bed as she often stayed out late. In the morning he became concerned, but didn't stop at the Darico's until after work. Meanwhile her sisters were calling frantically trying to locate her.
Although an excellent typist and stenographer she was not currently employed as she had health problems.
Police worked to track her last hours, even using the local papers to publish pictures of Evelyn and the clothes she was wearing. They dug into her past and questioned anyone who had known her. Reporters were told the police were making progress, but no details were released.
After an autopsy Evelyn was buried in her Olsen family's plot in Coventry's Center Cemetery.
The Murderer
Then, on April 10, almost a month after the murder, police announced the murderer had been found, confessed and charged. Evelyn Seddon had a lover - Durando Anthony Ferrari, 42, who lived with his wife in Verona, New Jersey.
Ferrari grew up in the Wallingford, CT area in a Italian family. He had three brothers and three sisters who still lived there. He was personable and quite successful in business.
He met Evelyn while working together at Fenn Manufacturing in Newington, where he was plant superintendent and she was an executive secretary. He changed jobs moving to New Jersey, but they maintained a 4-year relationship on his frequent visits back to Connecticut on business and to visit family. Valley Falls Road, known locally as a Lover's Lane, was a favorite place for them to meet.
Ferrari said that the meeting that night was to iron out arguments about an involved stock purchase arrangement. One of the things that led police to him was the withdrawal of $4,000 from Seddon's personal bank account.
When he arrived at her car on Valley Falls Road about 6:30 p.m. the car door was open, he said, and she had a gun in her hand, greeting him angrily with an ethnic slur. This angered him and they struggled for the gun. A shot was fired in the air. He gained possession of he gun and fired the two shots that killed her. He reenacted the shooting for police investigators.
He told police he almost turned himself in after the shooting, but lost his nerve. Ferrari was cooperative and he was described as 'very, very congenial, not upset in any way.' He said he threw the gun off the Buckley Bridge, but divers were unable to find it.
As the investigation continued over the next month investigators learned that Ferrari was less than truthful. They had a complex business -love arrangement for years after they met at the Newington factory. Evelyn and her husband had separate personal bank accounts and she had accumulated quite a bit of money. Shortly before her death, she had withdrawn $4,000, a good sum in 1958. Dorando had invested the money for her, but had put the stocks in his own name. Feeling taken advantage of she threatened to disclose their relationship.
When he met Evelyn on March 11 they quarreled. Ferrari had brought the gun, not Evelyn, and the position of the body indicated there was no struggle. The keys in her hand and foot on the pedal determined that she was about to leave when he shot her. Now her death became premeditated murder.
The Trial
Ferrari was imprisoned in the Tolland Jail where he would remain until his case came to trial in June.
The court met in Rockville. The case was first heard by a Grand Jury that met in the GAR Grand Hall. Ferrari initially pleaded 'Not guilty' to a charge of first degree murder. At his first court date he apologized to the judge for his appearance as he had not had a haircut in three weeks.
Ferrari was a constant pipe smoker and in photos of his various court appearance he is always seen smoking.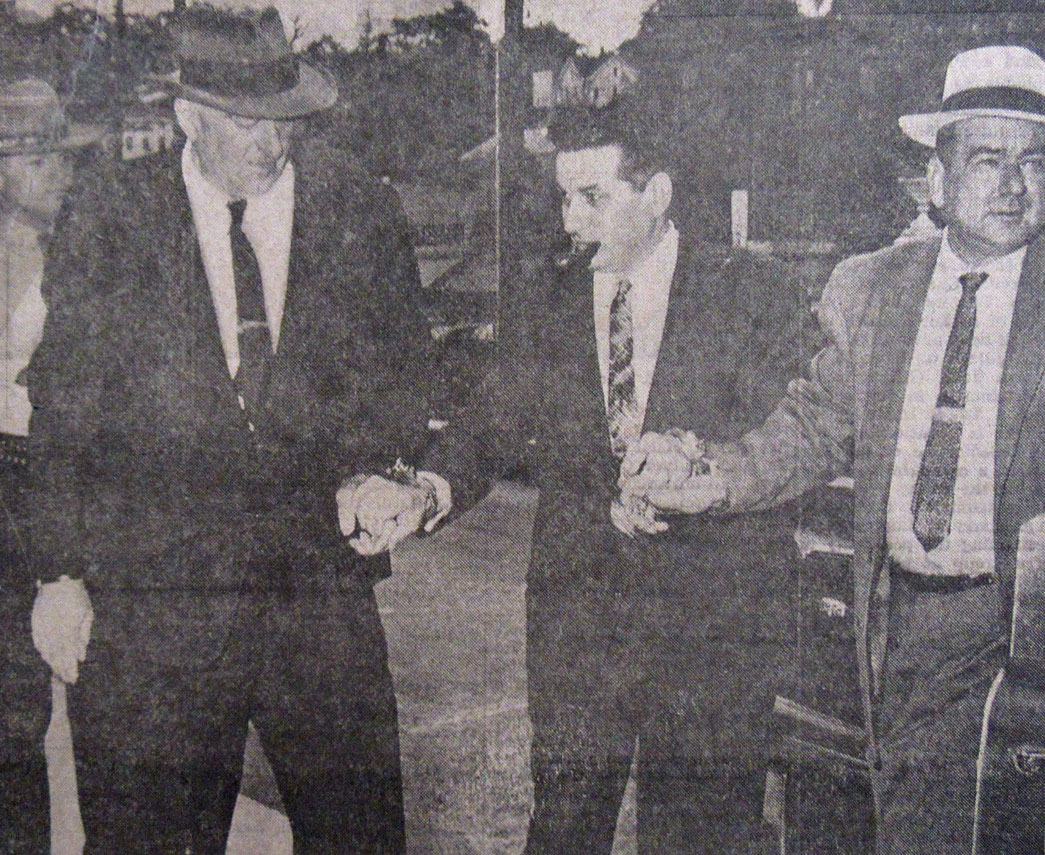 Calmly smoking a pipe, Dorando Ferrari was led to the
Tolland County Court by Deputy Sheriffs
Goodwin Jacobson & Vernon's Edmund Dwyer.
On June 25 Ferrarri pled guilty to second degree murder with life imprisonment rather than face a trial for first degree murder. Prosecutors agreed to the deal as proving first degree murder might have been difficult. A life sentence was mandatory for second degree murder, although he would be eligible for parole after 20 years.
He was sentenced to life imprisonment on July 17 and incarcerated in Wethersfield State Prison. He was again smoking his pipe when brought to court and after sentencing calmly relit his pipe on the way to prison.
Dorando Anthony Ferrari died in 1971 at age 56. He served only 13 years of his sentence so likely died in prison, although I am unable to confirm that. He was buried in Wallingford with his family.
Sources
Various articles in the Hartford Courant and Rockville Journal. All photos are from the Hartford Courant.
Updated April 2021