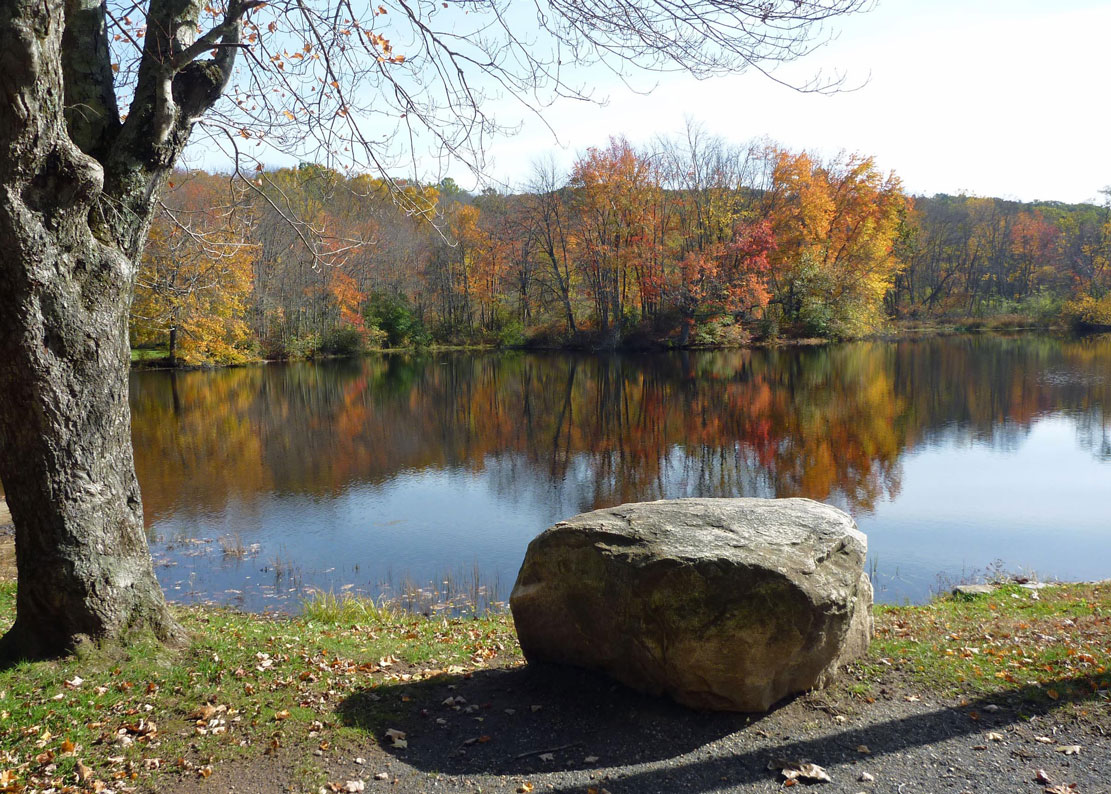 Valley Falls Park in October
Autumn Pleasures
Organized activities are winding down in the Tankerhoosen Valley as we enter the holiday season. Weatherwise it was a nice fall with warm days, colorful foliage and interesting programs. I hope you made time to enjoy nature's paintbrush.
The color peaked a bit later than normal, but gave us a couple of weeks that remind us of why we love New England. Storm Sandy was more a nuisance in Vernon than a disaster, although it did take down more of our evergreens. After last year's Halloween storm and aggressive tree trimming by CL&P there wasn't much left to cause problems.
Each season of the year brings its own special opportunities to the valley. Although the time between leaves and snow lacks color it is a good time to explore smaller trails and woods as your view isn't blocked by underbrush and you are less likely to have to fight through sharp barbs. Rock outcroppings, glacial erratics, small feeder streams and views that are hidden during the summer are now visible.
This issue of the newsletter celebrates autumn and the beauty of the Tankerhoosen Valley. Included are slideshows of the foliage and we help you find the best spots for viewing. We enjoyed a guided tour of Valley Falls Park with State Archeologist NICK BELLANTONI and of the new Tulip Tree Trail with Conservation Commission leaders. Also hunting is now permitted at the Tankerhoosen Wildlife Management Area so do take precautions.
An article on testing the river's health shows a bit of the work volunteers do so that you and your children can enjoy the valley for years to come. And looking back in time we explore the long gone community of Phoenixville and an old snapshot shows how the area has changed over the past 40 years.
Enjoy the holidays and following nature's example rest up and prepare for another year of Tankerhoosen Valley delights.
Have a neighbor or friend who might enjoy the Tankerhoosen website? Consider forwarding this email to them. Call it an early Christmas present.
Jon Roe   
» Go to The Tankerhoosen website.
---
Albums: Autumn 2012
The color peaked a bit later than normal but gave us a couple of weeks that remind us of why we love New England. This is an album of pictures taken along the Tankerhoosen Valley showing peak color as well as the changes you'll see at this time of year. The photos are arranged from the top of the valley at the Tolland County Agricultural Center and moving down the valley to Talcottville.
For another slide show of autumn at Walker's Reservoir, Bread and Milk Road and Valley Falls Park see ALTHEA MADIGAN's YouTube presentation Vernon In Autumn.
---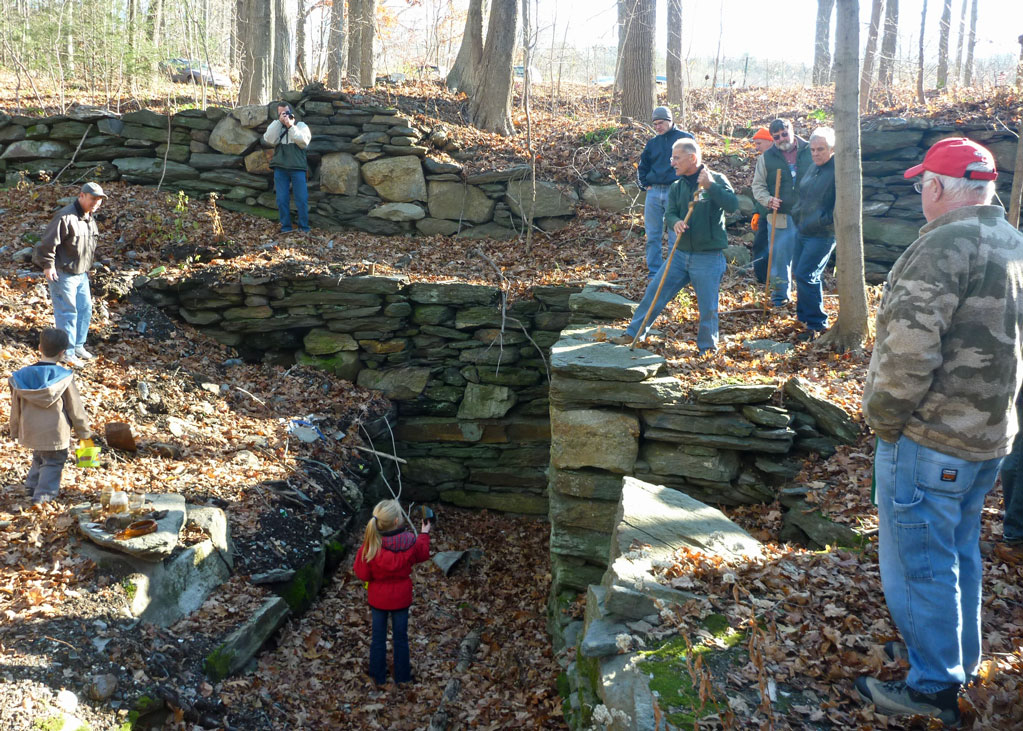 Describing mill operation
Out And About: Archeology Hike
On Saturday, November 3 State Archeologist NICK BELLANTONI led 50 people on a 2-hour walking tour of Valley Falls Park. Bellantoni was the guest speaker in April at the Vernon Greenways Volunteers (VGV) Spring Kickoff program. VGV's leader DON BELLINGHAM invited Bellantoni back to lead a hike in the area.
We began by walking the Braille Trail past the mill remains where some archeology work has been done. Bellantoni pointed out how the mill operated and the location of worker housing. He hopes more work can be done there in the future.
The tour ended well upstream on Railroad Brook where Sharpe's Trout Farm was located, another dig site for archaeologists. Along the way we learned about how and where Native Americans lived in the area.
---
Recreation: Scenic Views
As you drive, bike or hike through the Tankerhoosen Valley you'll come across many beautiful views. Everyone has their favorites. The Town of Vernon recognizes 18 such noteworthy views. Do you know where they are and might you have missed a few?
Tucked into documents published by the town are maps that few see, but include great information. One such map is included in the 2012 Plan of Conservation & Development (POCD). A map called 'Scenic Resources Plan' that was created by the Town of Vernon GIS Department in June 2011 shows the best Scenic Views in town. Eighteen of them are in the Valley.
Late Fall is a good time to enjoy some of these views as the leaves are down and you can see a great distance or through the brush. Once you have located them and know where to look you can enjoy them at other times of the year too.
---
Hiking: The Tulip Tree Trail
This is the area's newest trail opening in 2012. It was designed, developed and is maintained by the Bolton and Vernon Conservation Commissions. It begins at the south end of Valley Falls Park near the Vernon/Bolton line and is a loop from Railroad Brook to Bolton Road and back.
The unique feature of this trail is a series of Tulip Trees, which legend tells us were planted long ago by Native Americans to mark their territory. Most of the 'River Indians' lived in long houses or wigwams, made from bent saplings covered with tulip tree bark. Native Americans also used the tree for dugout canoes.
The most interesting feature on the trail may be the rock ledge and small quarry at the top the hill not far off Bolton Road. Nearby on private land is a larger, still active quarry.
» Learn more about the Tulip Tree Trail.
---
Recreation: Hunting
Until recently there was no hunting in the Tankerhoosen Valley except on private property. But in September the Connecticut Department of Energy and Environmental Protection (DEEP) opened its new Tankerhoosen Wildlife Management Area to bow hunting only. The season runs from September 15 through December 31. In the Spring additional options will become available.
The Tankerhoosen WMA is adjacent to the popular Belding WMA so hikers need to be aware of their location, preferably wear bright colors and keep dogs leashed. Hunting and No Hunting areas are well marked. You'll find a map on our Hunting Page.
---
Environment: Assessing The River's Health
Those of us who live in the Tankerhoosen Valley or enjoy it recreationally appreciate a healthy river, but tend to forget that it takes work and the contribution of many volunteers to keep it that way.
One way to determine the health of the river is to assess how its microorganisms are doing from year to year. If they continue to flourish it's a sign the river is healthy.
To check on the Tankerhoosen's microorganisms an annual survey is conducted by volunteers at several locations along the river. Once a baseline is established changes can be tracked. Consider it an early warning system to determine negative impacts on the river so that corrective action can be taken before the situation gets out of control. The survey is led and organized by the Friends of the Hockanum Linear Park of Vernon, Inc.
» Go to Streambed Biological Survey.
---
History: Phoenixville & The Phoenix Mills
Phoenixville is one of the small, largely forgotten, mill villages in Vernon. Indeed the only reference to the village name and most of its history is found in "Cascades and Courage," GEORGE S. BROOKES' 1955 history of Vernon and Rockville. It includes parts of Phoenix Street and Maple Street. The primary features visible today are the Tankerhoosen Lake and dam.
Once this quiet corner was a busy village. When Phoenixville was a thriving village Phoenix Street connected the railroad at Vernon Depot with Hartford Turnpike just opposite the present Vernon Diner. Villages of the time were self contained with worker and supervisor housing provided by the company. There are still several houses dating to that period on Phoenix and Maple Streets. Indeed one of the earliest schoolhouses in town was located here.
There were a number of mills in the area from about 1808 the late 1920's. In its prime the Phoenix Mills Company manufactured cotton warp. In 1879 it became a branch of the Dobsonville Mill, later was used for storage and finally burned. The property passed to the Talcott Brothers. Remains of the walls are visible if you peer over the bank.
» Learn more about Phoenixville.

---
Geography: Remember When?
Speaking of Scenic Views this photo is of a view that is no more. I took it on a walk with my son in 1970. It is taken from what is now South Frontage Road (I-84 Exit 66) looking south across the Tankerhoosen Valley towards Box Mountain. You can just see Tunnel Road on the right.
The area was still farmland and there is nothing to interrupt the view of rolling hills. From this height you can see clearly to Valley Falls Road. Today the trees are grown (the farmers kept them down so as not to shade the crops), Tunnel Road is lined with industrial buildings and microwave towers crown Box Mountain. Sigh - the price of progress.
---
News Items
Between issues of this newsletter stay current with news and updates on our News and Facebook Pages. Also as events are scheduled for the coming season we'll add them to our Activities Page as well as post them on Facebook.
Some stories you may have missed: Scouts Catalog Cemeteries, Storm Sandy, 2012 Candidates Forum, Talcott Mill Redevelopment.
» Go to News Stories.
» Go to Activities.
» Go to Tankerhoosen Facebook Page.