Vernon Greenways Volunteers
Contact Information
Name: Vernon Greenways Volunteers
Type: Supports the Vernon Parks & Recreation Department
Membership: Free
Contacts: Don Bellingham
Email: [email protected]
Website: VernonGreenways.org
Facebook: Vernon Greenways Volunteers
Year Founded: 2005
Member Meetings: Kickoff meeting in April and end-of-season picnic in October.
Click figures for larger images.
Mission
The Vernon Greenways Volunteers are individuals who assist the Vernon Parks and Recreation Department through the maintenance, enhancement and proper use of the 30+ miles of trails in Vernon, CT.
Goals
Preservation and creation of open spaces
Promotion of healthy lifestyles
Protection of habitat and the environment
Providing corridors for people and wildlife
Preservation of cultural and historic areas
Increasing educational experiences
Increasing property values
Tankerhoosen Connection
With a large percentage of Vernon's trails and parks located in the Tankerhoosen Valley many of the Greenways maintenance activaties are also focused here. However a number of their special projects also benefit this area and they provide an indication of the varied tasks the Volunteers undertake and the contribution they make to the town.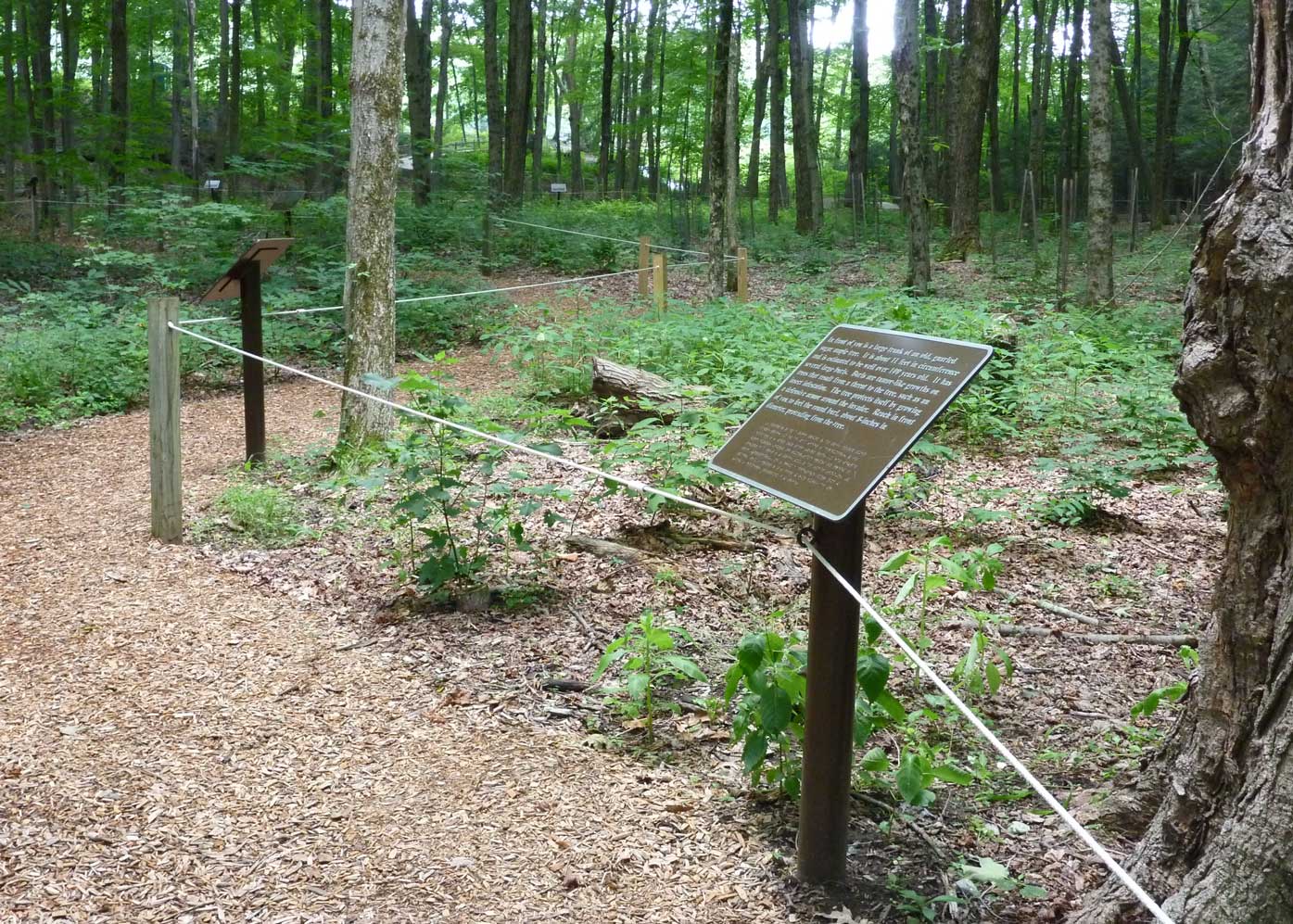 The Braille Trail at Valley Falls Park was established some years ago as an Eagle Scout Project loop trail and expanded to attach to the Valley Falls trails through the efforts of The Friends of Valley Falls, the Vernon Parks and Recreation Department and volunteers. Over the years the trail has been deteriorating. The Friends of Valley Falls obtained a grant for restoration of the area and replacement of the Braille signs. The Vernon Greenways Volunteers took over the restoration including removing all the invasive plants from the 1 1/2 acre site, creating 30 new wooden posts so braille ropes could be removed from the trees and with the assistance of the Vernon Parks and Recreation Department installed the 17 new 17" X 24" braille signs. In addition they obtained a grant to buy and install 104 native plants. This was done over a period of two years.
With a special interest in the Braille Trail they organized, in June of 2010, a Board of Education Services for the Blind outing at Valley Falls Park that included fishing, the Braille Trail, a picnic and games. See Journal Inquirer article. This proved so rewarding that they will do it again in 2011.
In addition to the Braille Trail the Rail Trail has been a point of emphasis and in 2010 the Volunteers removed all graffiti from the nine mile long Rail Trail that had accumulated over several years on fences, trees, rocks, posts and signs. Six of eight Rail Trail plantings that had fallen into disrepair were also restored and will be maintained ongoing by Vernon Greenways Volunteers.
In June of 2008 they held a Graffitti Paint-Out under I-84 and in July of the same year built a bridge on the Belding Properties.
2011 Projects
The Vernon Greenways Volunteers have planned a number of hikes each month. See Sponsored Hikes.
Don Bellingham and George Arthur completed an update of Vernon's Trails Maps for the 2011 hiking season.
A second Board of Education Services for the Blind (BESB) Outing at Valley Falls Park is planned for Friday, May 13 (Rain Date May 21). The CT Fly Fisherman's Assoc. (Fly Fishing) and Rockville Fish and Game Club (Bait Fishing) will supply equipment and instruction. The Braille Trail will be toured and the Vernon Greenways Volunteers will provide a barbecue picnic for what is expected to be 80 people (students, teachers, parents and volunteers).
Trails projects will be chosen later in the season.
Online Resources
Trail Maps - Find maps of Valley Falls Park and Walker Reservoir.
Rules of the Trail - Rules for hikers, dogs, horses and cyclists.
Links - Links to a variety of resources.
Membership
Volunteers are needed to help maintain the trails. All volunteers must agree to follow the "Proper Use" policies. Participation in maintenance projects is not mandatory as time and physical restrictions may not allow all members to participate at this level; they value your head and heart as well as your hands. However, some of the greatest enjoyment in this program is through the interaction with fellow volunteers and seeing the results of your labor on a completed project. You can also opt to be a Trail Manager.
Contact the Vernon Greenways Volunteers via their e-mail address with questions. If you would like to join include your name, address, phone number and e-mail address. Virtually all contact is via e-mail.