Mount Hope Cemetery
The land for the Mount Hope Cemetery was given by the TALCOTT FAMILY in 1867. It was created as a final resting place for family, mill workers and others in their community. The name comes from the hill where the cemetery is located.
This gem of a cemetery is hidden from view. There are three entrances - two drives, one from Main Street and one from Elm Street, and one unmarked entrance from the Rail Trail. Until recently there were no signs, but now one of the historical signs marks the Main Street entrance.
It's isolation and relatively small size make it the perfect place in town to rest, meditate and collect your thoughts. The pine trees add to the calming atmosphere. Wandering through and reading the names and dates carries you back in time.
You'll find many Talcott's buried here as well as other familiar names such as Skinner, Risley and Bushnell.
Originally there was an arch over the drive as you approached the cemetery from Main Street but over the years it disappeared and noone seems to know where it went or who removed it.
On a hill in the cemetery is a Civil War monument, one of the oldest in the state.
The Civil War Monument
Mount Hope Cemetery is the home of Vernon's earliest Civil War monument, an obelisk at the highest point in the cemetery. The cemetery was dedicated in 1867 and the memorial monument was dedicated two years later in 1869. On the obelisk are engraved the names of those from the area who gave their lives in the war.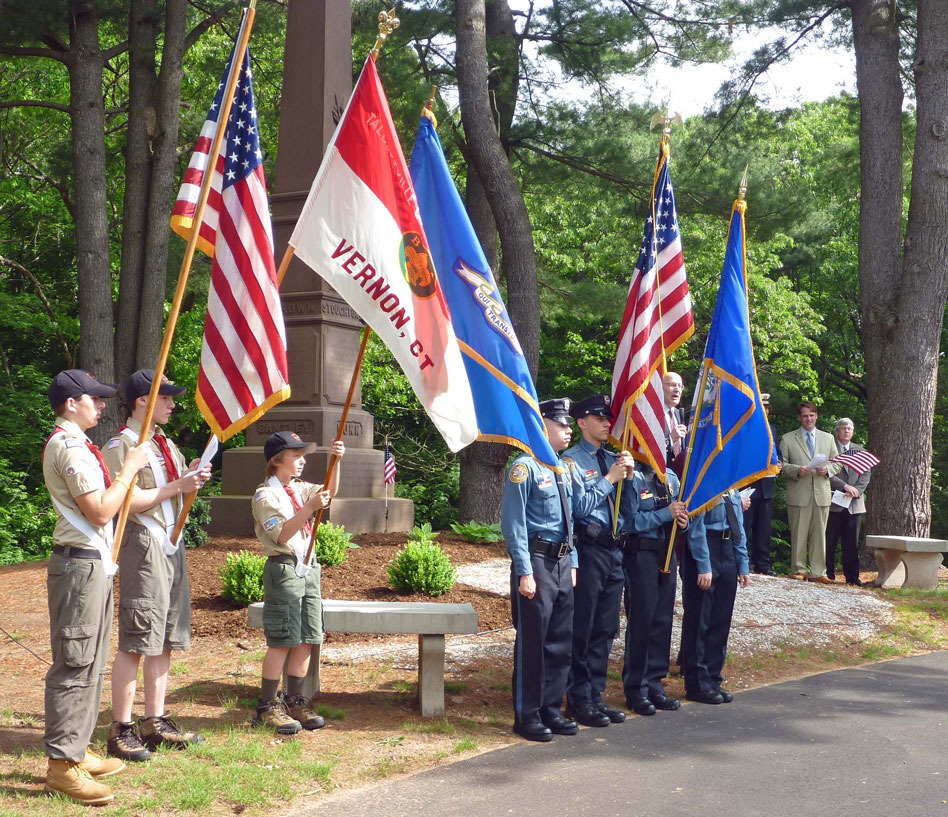 Memorial Day
The brownstone monument honors eight local residents who died during Civil War service. It was dedicated in 1869 and restored in 2008. The base of the monument's front face bears a dedication reading, 'Erected to the memory of the soldiers from this place who gave their lives to their country in the War Against the Rebellion.' The family names are Stoughton, Hunn, Foster, Loomis, Brown and Bantley.
The men served at Gettysburg, Antietam and one died in the Andersonville Confederate prison. For details on the men and their service plus additional photos of the monument see CTMonuments.net's Talcottville Soldiers' Monument.
Each Memorial Day the town of Vernon has two parades. The primary parade is held in Rockville on the Monday of Memorial Day, but a day earlier on Sunday one of the state's shortest parades takes place in Talcottville. Marchers begin at the Congregational Church and proceed to the monument in the cemetery where ceremonies are held. The parade usually includes Vernon's mayor and council members as well as the fire and police departments, and veterans. Until his death at 105 John Talcott, Jr and his son John Talcott III, both veterans took part and were honored guests at the service.
» See more on Talcottville's Memorial Day Parade.
Sources
Historical sign at location.
Updated June 2017