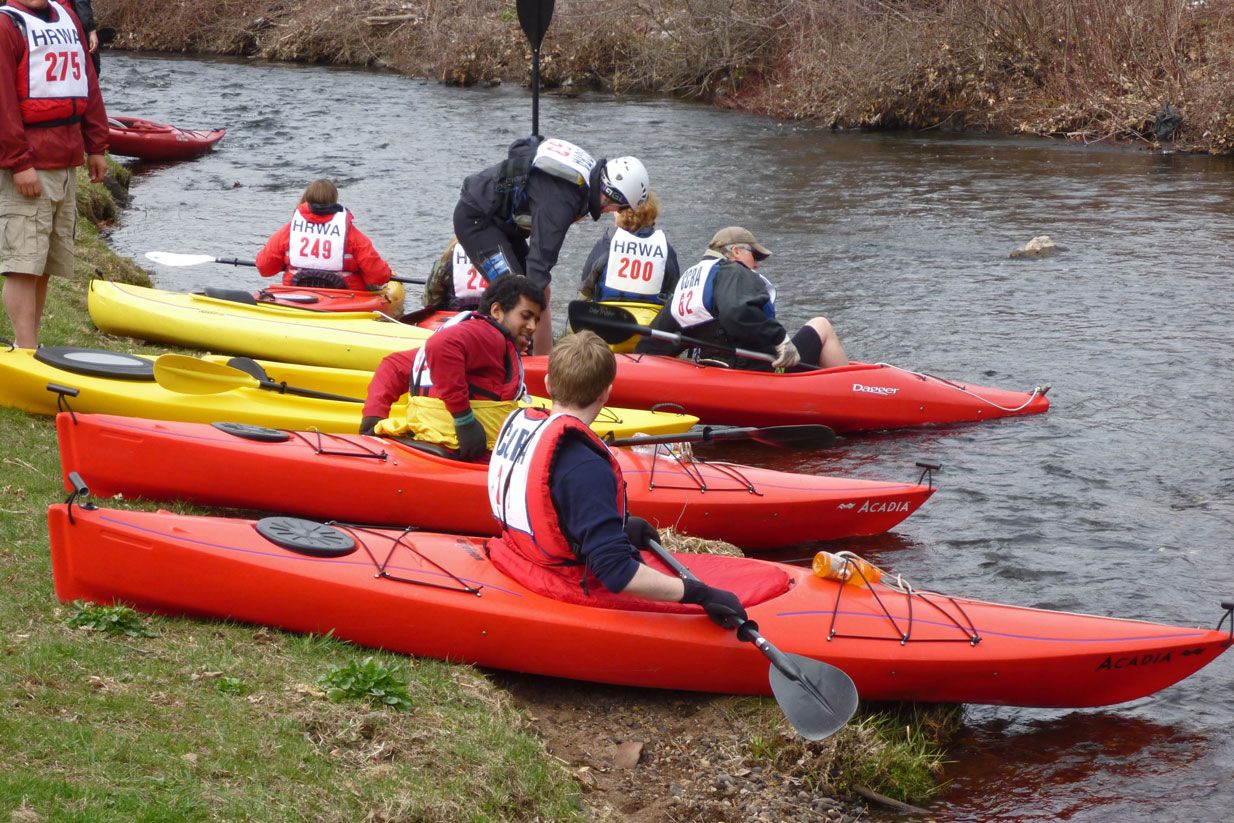 A colorful way to launch spring.
An Early Spring
Hope you are taking advantage of the early spring to do some hiking and enjoy the Valley. The trees and flowers are starting to pop out and that means that one by one the gardens are coming into their own. Two spring gardens are highlighted below. As the season unfolds we'll keep you up-to-date here and on Facebook.
Organizations are beginning to announce their activities for the year including a number of outdoor nature walks the whole family can enjoy. Also please note the two programs taking place in the next week - one Thursday on Low Impact Development and the other on Monday is the Vernon Greenways Volunteers 2012 kickoff program.
We have a number of interesting stories under development that aren't quite finished and will be rolling out over the next month or so. They include a piece on General Lafayette's 1824 visit to Vernon, a letter from Vernon's first pastor written in 1800 describing the town he knew, a listing of the many memorials in the Tankerhoosen Valley and a slideshow of one of the Tankerhoosen's tributaries.
We've also been working with the Friends of Valley Falls and Vernon Historical Society encouraging them to post archive sections on their websites for articles and documents so they will be accessible from the Internet. This enables us to link the articles and make them available for you to read. The first such article is included in this newsletter on the Double Murder.
As another way to create awareness of all the Valley holds we have begun doing a Tank blog for Vernon Patch. These pieces are primarily things going on that relate to the Valley or pieces previously published in this newsletter. Visit Vernon Patch posts.
The recently approved 10-year Vernon Plan of Conservation & Development recommended that to promote Community Spirit throughout town we develop a 'brand/positive and recognizable image' to help convey Vernon's unique identity. The Economic Development Committee and the Mayor's office are in the process of doing just this with an eye to attracting and retaining business in town. We have a head start on branding referring to The Tankerhoosen as Vernon's Green Valley. Admittedly not the full picture of Vernon, but what could make the town more appealing than valuing, protecting and highlighting this unique resource? That's an image to attract home buyers and can businesses be far behind?
Jon Roe   
» Go to The Tankerhoosen website.
---
Upcoming Activities
As the 2012 season gets underway in the Tankerhoosen Valley there are two big programs of interest taking place in the coming week and several other events on the horizon.
Low Impact Development Presentation
In our last newsletter we introduced the concept of Low Impact Development (LID). Over the past year town and conservation groups have been developing low impact development regulations and a corresponding design manual for Vernon. The study is a result of a grant from the National Fish and Wildlife Foundation. They are concerned with the impact the Tankerhoosen River has on the recovery of Long Island Sound. Their concern shows the importance of maintaining the health of our little river.
LID is an innovative approach to stormwater management. It applies the basic principle modeled after nature: manage rainfall where it lands. LID's goal is to mimic a site's pre-development hydrology by using design techniques that infiltrate, filter, store, evaporate, and detain runoff close to its source. Many of the techniques can be applied at home.
On Thursday, April 26 at 7 p.m. at the Tolland County Agricultural Center the civil engineering firm of Fuss & O'Neill, Inc. will make a presentation to town officials that is open to the public and is an opportunity to learn much more about what it means to Vernon and its impact on the watershed.
» Learn more about Thursday's presentation.
» Learn more about Low Impact Development.
Vernon Greenways Volunteers Annual Program
Each spring the Vernon Greenways Volunteers kick off their season with an interesting program that relates to the history or nature of the area. This year they are fortunate to have state archeologist NICK BELLANTONI as their speaker. He will talk about how to spot artifacts while cleaning up debris along hiking trails and some of the studies he has done in Vernon.
The Kickoff Meeting is Monday, April 30 at 7 p.m. at the Teen Center, 375 Hartford Turnpike on Route 30. The event is free. If you enjoy the outdoors consider becoming a member of the volunteers. Learn more.
» Learn more about Vernon Greenways Volunteers.
Other Planned Events
A summary of other events taking place in the Tankerhoosen Valley during the next month. The Activities Page of our website lists all known upcoming events, while immediate events are listed at the top of our Home Page and are also posted on our Facebook Page. Please let us know if your organization is planning something.
Friday, April 27 through Sunday, May 6: The Vernon Historical Society will hold its Annual Book Sale at their museum on Route 30. The sale is a fund raiser and features a wide selection of used hardcover and paperback books, DVDs, VCR tapes and books on tape. Learn more.
Sunday, April 29: The Friends Of Valley Falls will sponsor a Wildflower Walk led by GINNY GINGRAS at Valley Falls Park. Meet in the parking lot at 2 p.m. Learn more.
Saturday, May 5: The Friends Of Valley Falls will sponsor a Bird Walk led by DENISE ANAMANI at Valley Falls Park. Meet in the parking lot at 7 a.m. Learn more.
Saturday, May 12: The Belding Wildlife Management Area leads an International Migratory Bird Day Walk. Learn to identify birds by sight and sound. Begins at 8 a.m. on Bread and Milk Road. Learn more.
---
History: Vernon's Milestone
Before the railroads were constructed stage coaches traveled regularly between Boston and New York along three post roads, including one through Vernon along Hartford Turnpike. Each mile along the route was marked with a milestone placed by the turnpike company who operated that section of the route. Think of the milestones as an early form of GPS so travelers would know where they were. There aren't many remaining, but we have one in Vernon.
The next time you find yourself waiting at the Vernon Center traffic light at the corner of Center Road and Hartford Turnpike look for the historic marker in front of the old kindergarten and new Vernon Community Arts Center.
The plaque says, "Old milestone erected by Hartford and Tolland Turnpike Company - 1801. Six Miles Tolland Court House. McLean Tavern built in 1793 stood on these grounds. Marker placed by Sabra Trumbull Chapter D.A.R., June 14, 1984." The milestone itself has the inscription 'VI. M.T.C.H.,' which means 'Six Miles Tolland Court House.'
The Hartford and Tolland Turnpike Company was chartered in October 1801, seven years before Vernon would separate from Bolton, to build and maintain a road from East Hartford through Vernon to Tolland. Beyond Tolland other roads branched off.
» Learn more about our Milestone and travel in the very early 1800's.
---
Tank Tales: Double Murder
Of the 126 people executed for crimes in Connecticut only one was from Vernon and his crime took place on the Dockeral Farm in the Tankerhoosen Valley. On the morning of August 4, 1908, farmer JOHN ZETT killed his wife with a sledge hammer, 4 year old granddaughter with a knife and attempted to kill his adult son who successfully defended himself. (See article in Meriden Morning.)
The murders, September trial and December execution were the talk of the region. The press coverage and short 4 month period from crime to hanging show how our judicial system has evolved over the past hundred years.
JEAN LUDDY, from the Vernon Historical Society (VHS), researched this story for an article in the Society's newsletter. It describes and analyzes the events that took place around the murders. VHS has started an Archives section on its website for easy reference to their articles. They make fascinating reading and give websites like ours the opportunity to share more material about the area.
» Read Vernon Historical Society pdf article.
» Visit Vernon Historical Society Archives.

---
Recreation: Gardens
Spring is early this year and so is the awakening of our gardens. Featured this month are two that bloom in the spring. Each is unusual and a treasured addition to the Tankerhoosen Valley. We hope you will visit each before the blooms fade.
Daffodil Labyrinth
Located at the Tolland County Agricultural Center is the Daffodil Labyrinth, a spring labyrinth made from flowers. When the yellow daffodils of spring appear in late March so does the labyrinth. As the daffodils fade in April violet grape hyacinths appear to hold the pattern into May. As summer arrives the labyrinth is mowed and vanishes until the following spring. As this newsletter is distributed the daffodil's are faded but the hyacinths are in full bloom. (See photo.)
The labyrinth is an ancient symbol that relates to wholeness and has been found in all cultures and religions. It combines the imagery of the circle and the spiral into a meandering, but purposeful, path representing a journey to our own center and back again out into the world. Labyrinths have long been used as meditation and prayer tools.
The TAC labyrinth was planted in the Fall of 2008 with 800 daffodils, each accompanied by a grape hyacinth.
» Visit TAC's Daffodil Labyrinth.
Wings Butterfly Garden
The Wings Butterfly Garden at 60 Lake Street is another spring garden, primarily azaleas and rhododendrons. It was created for families who have suffered the deaths of their babies or unborn children. It is laid out in the shape of a butterfly and features numerous winged decorations.
The garden is owned by the Town of Vernon and maintained by Vernon Parks & Rec and Manchester Memorial Hospital bereavement nurse NANCY KRUPIENSKI. With many azaleas and rhododendrons it is particularly lovely in May and is open to everyone to enjoy. Parking is available on the site.
» Visit Wings Butterfly Garden.
---
Organizations: Master Gardeners
The Daffodil Labyrinth and many of the other gardens at the Tolland County Agricultural Center are created and maintained by a Ground Management Committee that includes the Master Gardeners.
The Master Gardener Program is an Educational Outreach Program that is part of the University of Connecticut Cooperative Extension System. The program consists of horticulture training and an outreach component that focus on the community at large. The Tolland office of the Master Gardeners is located at the Tolland County Agricultural Center (TAC) on Route 30 in Vernon.
Master Gardeners are enthusiastic, willing to learn and share their knowledge and training with others. What sets them apart from other home gardeners is their special horticultural training. In exchange for this training, Master Gardeners commit time as volunteers working through their local Cooperative Extension Center to provide horticultural-related information to the community.
» Learn more about the Master Gardeners.
---
News Items
Between issues of this newsletter stay current with news and updates on our News and Facebook Pages. Also as events are scheduled for the coming season we'll add them to our Activities Page as well as post them on Facebook.
Some stories you may have missed: The dedication of the refurbished Braille Trail at Valley Falls Park and the return of the Barney Boxes.
» Go to News Stories.
» Go to Activities.
» Go to Tankerhoosen Facebook Page.