Wings Butterfly Garden
The Wings Butterfly Garden is for families who have suffered the deaths of their babies or unborn children. The neighborhood town park opened October 2010 and is located at 60 Lake Street. The garden is a new space where grieving families can seek a little solace from their pain and cherish their children's memories. It is laid out in the shape of a butterfly and features numerous winged decorations.
Residents CHARLES and NATALIE PLATT donated the strip of land to the town in 2009 to be used as a park after cultivating rhododendron and conifer bushes on the property for more than 40 years. In the spring of 2010, Manchester Memorial Hospital bereavement nurse NANCY KRUPIENSKI began work on building the garden.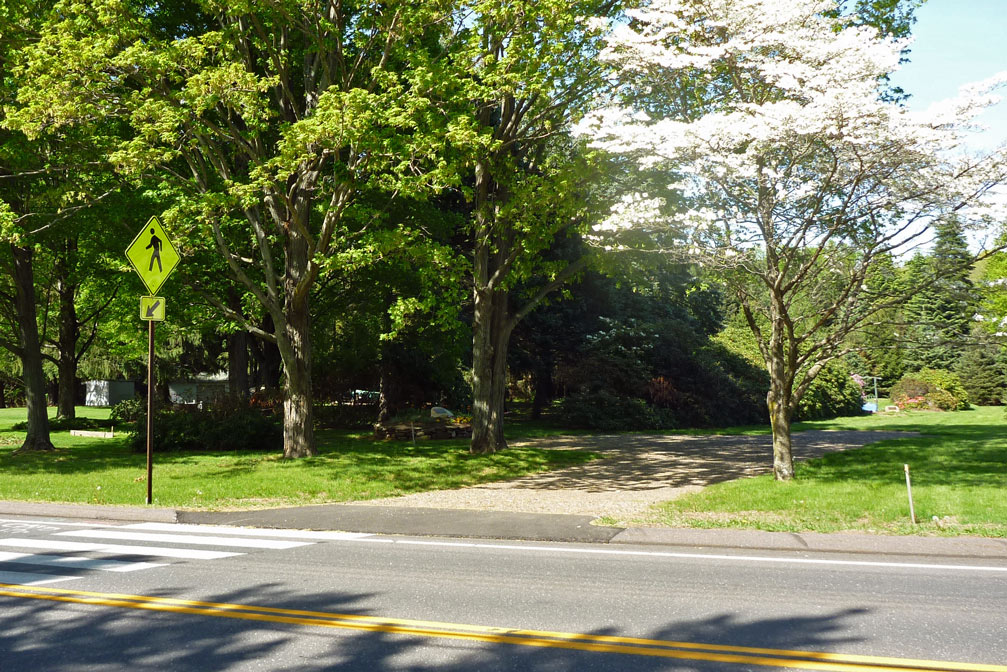 Look for the pedestrian walk on Lake St.
» Go to October 26, 2010 Journal Inquirer article.
With many azaleas and rhododendrons it is particularly lovely in May and is open to everyone to enjoy.
Location: 60 Lake Street, between Phoenix Street and Montauk Drive on the East side of the road. It's hard to spot the first visit as there is no sign easily visible from the road, but look for the pedestrian crossing that leads to the property. Parking is available on the site. See Google map and aerial view.
Most of the photos shown were taken this May just before and as the rhododendrons bloomed. Click on photos to see full size.