Fishing
The Tankerhoosen Valley is popular for fishing with a Class 1 trout stream in the first mile or so, Valley Falls Pond Trout Park for fly fishing, Walker Reservoir East with handicap access and the area in and below the gorge. The state designated the upper river a Wild Trout Management Area, the first in Connecticut. An article published in the Hartford Courant on fishing in the Tankerhoosen River is posted on the Connecticut Fishing Tips and News blog. The blog is a source for all things regarding Connecticut fishing. Read the Hartford Courant fishing article.
Map of Fishing Regulations in the DEEP Wildlife Management Area.
Valley Falls Trout Park
A Trout Park is a pond or stream that will be stocked weekly with trout from the state's fish hatcheries. Eleven water bodies in Connecticut have been designated as Trout Parks. Valley Falls Pond is one of the eleven. Trout Parks are located in easily accessible areas to enhance trout fishing opportunities for young anglers and novice anglers as well as for those with mobility challenges.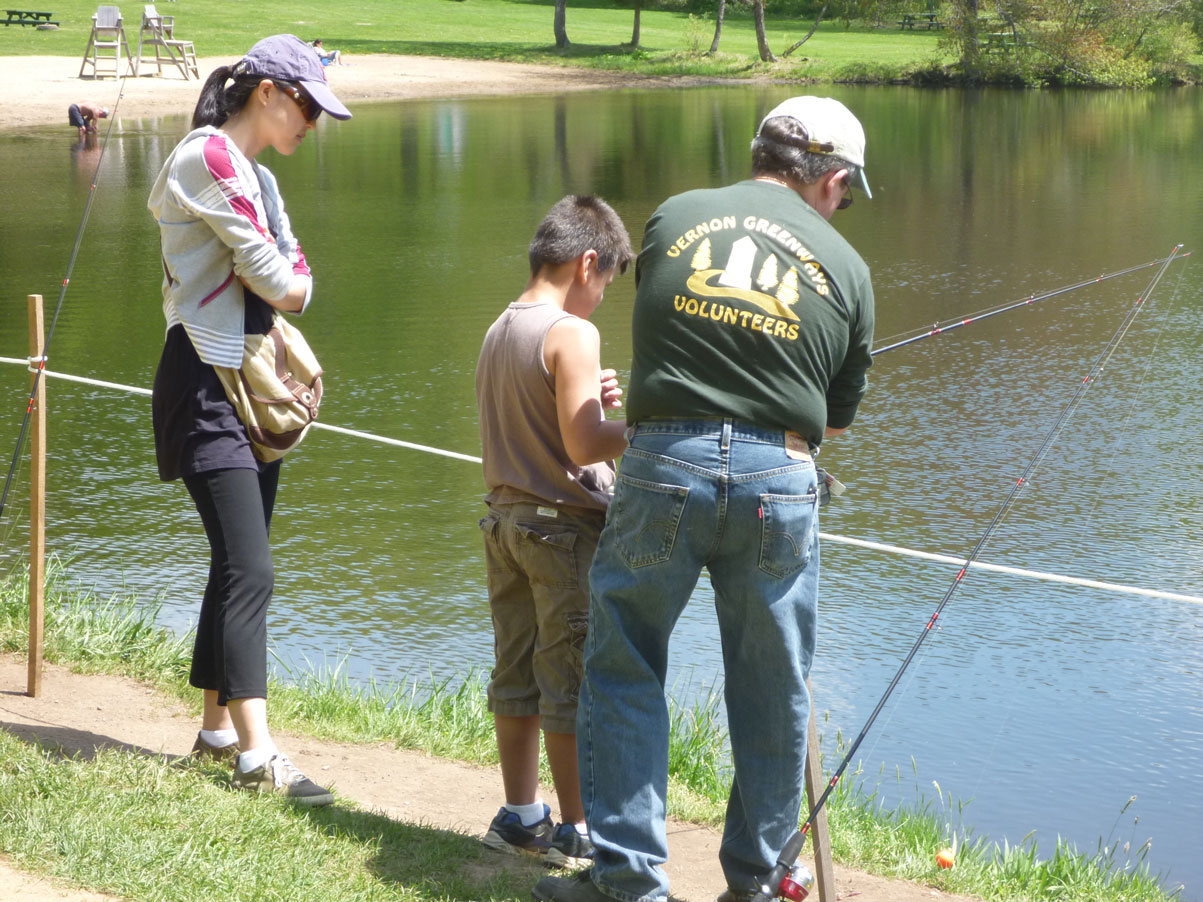 Students learn to fish.
The frequent stockings, generally between Opening Day and Memorial Day, will greatly increase an angler's chances of catching a fish, making it a more attractive "fishing hole", particularly to children and families. Although the Trout Parks will have more fish in them, their daily creel limit (the number of trout an angler can keep) has been reduced from five to two fish per day in order to spread the catch among a greater number of anglers.
Vernon Greenways Volunteers and the Vernon Parks and Recreation Department have hosted the state Board of Education Services for the Blind from Windsor at Valley Falls for the past two seasons. Extra fish were stocked and volunteers from the Connecticut Fly Fisherman's Association and the Rockville Fish & Game Club donated their time and equipment to help the students learn the hobby they love. Read the Journal Inquirer story 'Valley Falls hosts statewide event for blind students.'
In 1870 Valley Falls was also the site where Christian Sharps built his trout farm intended to produce 500,000 fish each year for city restaurants. Read about the Sharps Trout Farm.
Where To Fish
The Connecticut Department of Energy and Environmental Protection (DEEP) publishes an annual Angler's Guide to Inland and Marine Fishing. It provides a summary of the more important rules and regulations governing sport fishing in Connecticut and assists in the enjoyment of the angling experience. Read the Angler's Guide.
One of its features is a listing of streams, lakes and ponds that are available for public fishing. The following are in the Tankerhoosen Valley: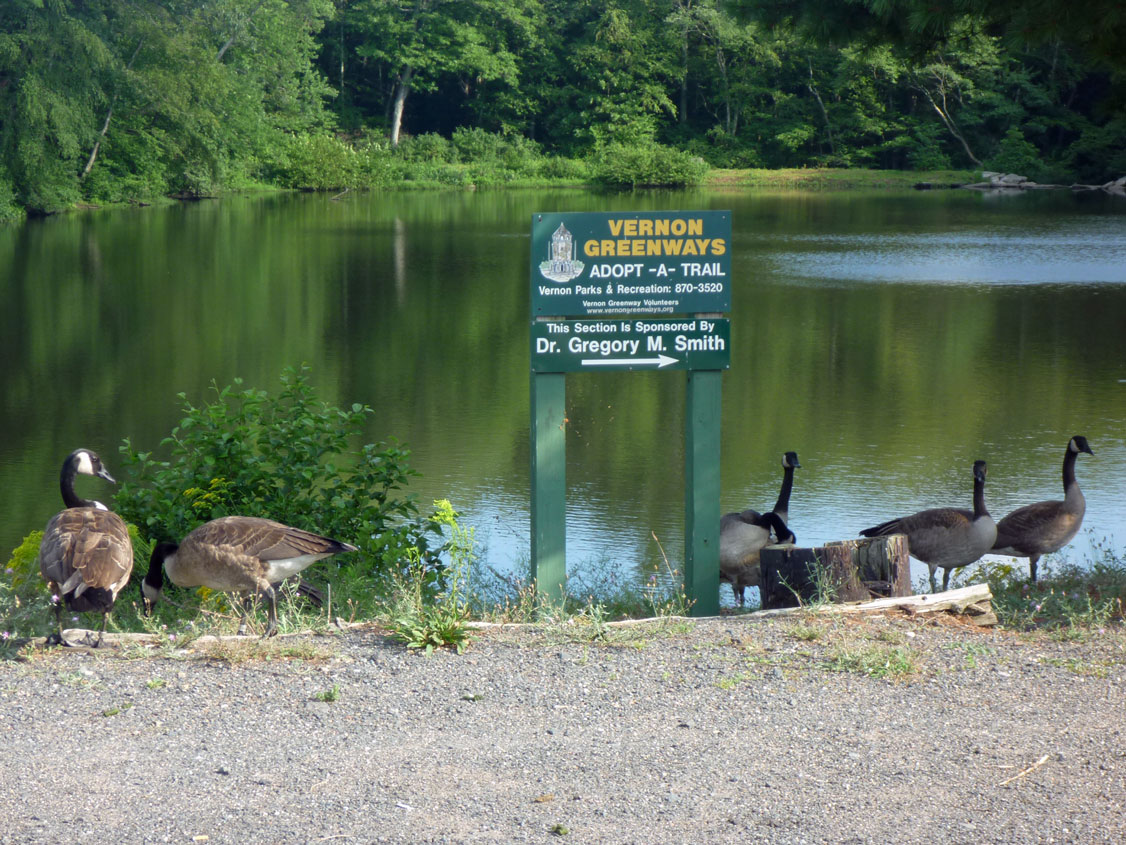 Walker Reservoir East
TANKERHOOSEN LAKES: (10 acres)
• Species: Trout, Large Mouth Bass, Chain Pickerel, Sunfish, Yellow Perch, Brown Bullhead
• Season: Open 6:00 a.m. 3rd Saturday April–last day February.
• Shore fishing access.
VALLEY FALLS POND & TROUT PARK: (4.1 acres)
• Species: Trout, Sunfish
• Season: Open 6:00 a.m. 3rd Saturday April - last day February.
• Trout: Daily creel limit - 2
• Shore fishing access.
WALKERS RESERVOIR (East): (5.1 acres)
• Species: (Trout, Sunfish, Yellow Perch, Brown Bullhead
• Season: Open 6:00 a.m. 3rd Saturday April - October 31
• Other: All vessels prohibited
• Handicap Accessible
• Shore fishing access
TANKERHOOSEN RIVER: Lightly to moderately stocked with Wild Brook Trout, Wild Brown Trout
Intermittent sections from Valley Falls Road to Hockanum River

BELDING WILD TROUT MANAGEMENT AREA (Class 1)
The river and its tributaries (as posted) within Belding WMA:
• Season: Open year-round.
• Methods: Barbless single-hook artificial lures and flies only.
• Trout: Catch and Release Only.
Updated May 2022